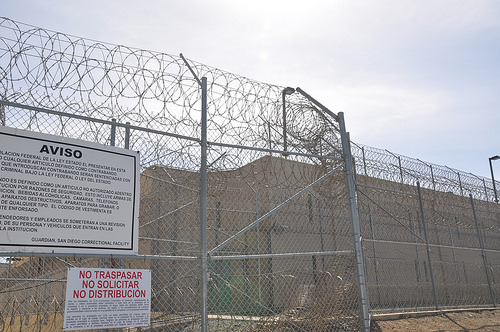 Trump's executive order officially calling for an end to separating migrant families on the border actually contains provisions laying the groundwork for the indefinite detention of intercepted migrants. Entitled "Temporary Detention Policy for Families Entering this Country Illegally," it instructs the Secretary of Defense to provide "any existing facilities available for the housing and care of alien families" to the Department of Homeland Security—a clear reference to placing detained migrants in military bases. It also charges the Defense Department with responsibility to "construct such facilities if necessary…"
Ostensibly, the migrants are only to be detained "pending court proceedings for improper entry." But no actual timeframe or maximum period is given. In fact, the crux of the order actually calls for removing limits on the period that children can he detained. The text instructs the Attorney General to "promptly file a request with the US District Court for the Central District of California to modify the Settlement Agreement in Flores v. Sessions, CV 85-4544 ('Flores settlement'), in a manner that would permit the [Homeland Security] Secretary…to detain alien families together throughout the pendency of criminal proceedings…or any removal or other immigration proceedings."
As the New York Times explains, the Flores settlement refers to a 1997 consent decree overseen by Judge Dolly M. Gee of federal district court in Los Angeles, which bars immigration authorities from keeping children in detention (with or without their parents) for more than 20 days. (The Flores case was first brought in 1985, and at the time of consent decree was designated Flores v. Reno.) So the cost of not separating the families seems to be indefinite detention. Judge Gee, an Obama appointee, is herself a daughter of Chinese immigrants. So a showdown between the White House and judiciary appears imminent.
The National Immigration Law Center states, "Trump Executive Order Makes Border Crisis Worse," adding: "This order will likely have the effect of jailing, for months or even years, immigrant families seeking safety in the US."
Trump's move is a response to popular outrage at his policy—and, as seems likely, even the threat of ungovernability. On the same day as his order, ICE was forced to shut down its office in Portland, Ore., after protesters blocked the entrance. (Willamette Week)
In New York, protesters jammed a terminal at LaGuardia airport as several planes carrying detained migrant kids from Texas were touching down. American Airlines later issued a statement accusing ICE of deceiving them; airline officials were told the kids were being taken to be reunited with their parents when in fact they are headed for detention facilities in the metro area. The airline said it would stop cooperating in the program. (Daily News)
One of those metro-area facilities in the Cayuga Center in East Harlem, which generally holds kids pending placement with foster parents. It is currently housing 239 of the some 2,300 migrant children already separated from their parents—in this case, mostly Guatemalans. Mayor Bill de Blasio visited the Cayuga Center today, and while he said "[i]t looked like the kids were being treated very well," he added that a number of the children arrived with physical problems, including lice, bed-bugs—and chicken-pox. (NBC New York)
Reports are mounting from around the country of the horrors of the child detention system. Children held at the Shiloh Treatment Center, a private facility south of Houston, Tex., described being held down and injected with tranquilizers against their will, according to a lawsuit filed by their families in federal court in California. Word of the abuse got out after some of the children were released and reunited with family, but it presumably continues for those still held at the facility. (Texas Tribune)
Martial arts instructor Antar Davidson quit his job at the Southwest Key shelter near Tucson, Ariz., after being ordered to enforce a "no-hugging" policy. He said the breaking point came when he was ordered to tell a traumatized and crying brother and sister from Brazil to stop embracing each other. Davidson is now speaking out in the media, saying he'd been placed in a position where he was being forced to do things he believed were "morally wrong." (Here & Now, CNN)
And contrary to Trump's claim about how everything's copacetic when asylum-seekers cross legally, a  PBS team reporting from Juárez-El Paso finds that asylum-seekers who attempt to cross the border at ports of entry are often turned away.
We warned upon Trump's election that his rhetoric and cabinet appointments portended the establishment of concentration camps in the United States. We may now be poised precisely at that tipping point. The country's future may depend on what transpires in the coming days in Judge Gee's courtroom—and in the streets, public squares and airports coast to coast.
Photo: BBC World Service via Flickr