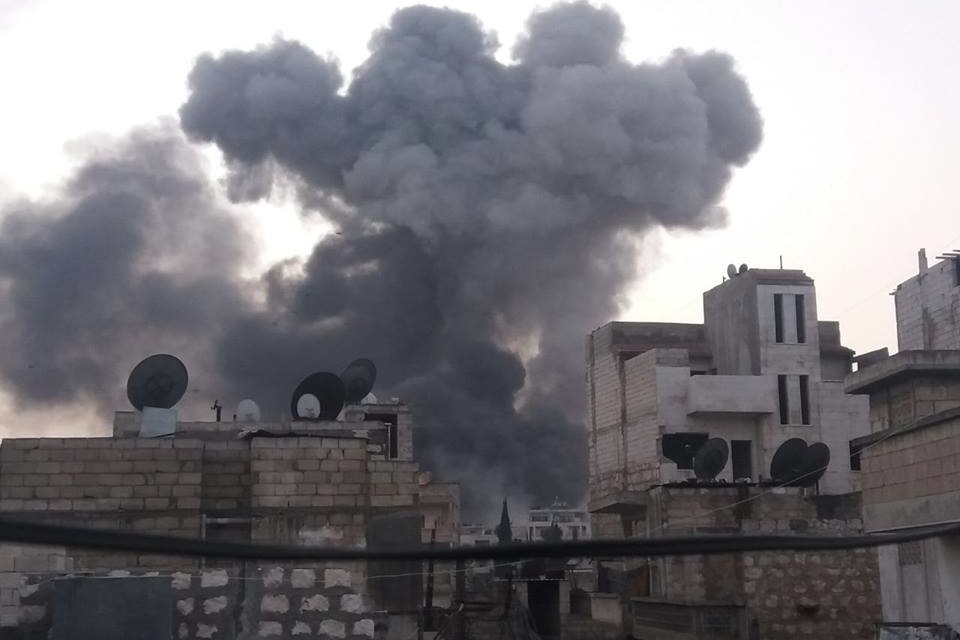 Syria's last opposition-controlled province of Idlib has receded from the headlines since a joint Russian-Turkish deal was announced last September, forestalling an Assad regime offensive on the province and establishing a "demilitarized zone" policed by the two foreign powers. But shelling and bombardment of the province by Assadist and Russian forces has escalated over the past month—and much of the shells and missiles are falling within the "demilitarized zone." Most recently, five civilians were injured April 14 in a regime air-strike on the Idlib villages of Urum al-Jawz and Bsanqul and Jabal al-Arabaeen, outside the town of Ari, within the demilitarized zone. UN Senior Humanitarian Advisor for Syria Najat Rochdi told reporters in Geneva last week that over 100,000 Idlib residents have fled their homes since February as a result of increased fighting. More than 90 civilians, half of them children, were killed in the province in March. As ever, medical facilities and schools continue to be targeted.
The neighboring province of Hama, which is also partly controlled by rebel militia, has come under bombardment as well, with air-strikes reported in recent days on the town of Qalaat al-Madiq. At least 11 civilians were killed in these strikes.
The ostensible justification for the ongoing bombardment is the presence in Idlib and Hama of the jihadist group Hayat Tahrir al-Sham (HTS), which was not included in the ceasefire and continues to harass regime forces on the southern edge of these provinces. This allows for utterly irresponsible headlines like that on Big News Network, "Syria Army Inflicts Losses on Terrorists in Hama, Idlib." This despite the fact that there are more than three million civilians in Idlib—many of them having taken refuge in the province after fleeing regime bombardment elsewhere in Syria. (MEM, New Arab, SOHR, SOHR, ReliefWeb, Al Jazeera, Amnesty International, Daily Sabah)
Such headlines must be recognized as a propaganda technique that contributes to the objectification of victims.
Photo via EA Worldview