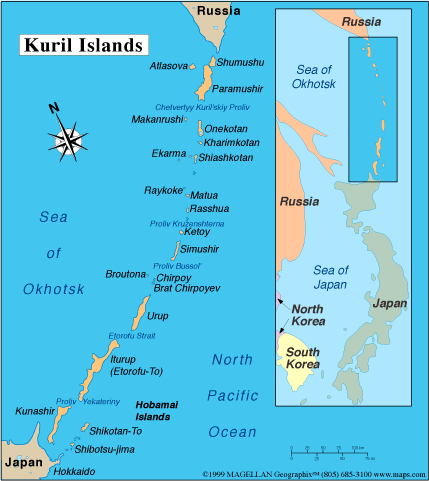 Amid quickly escalating tensions over Ukraine, Russia has lodged a diplomatic protest with the US embassy in Moscow, claiming that a US nuclear submarine penetrated Russian territorial waters near the Kuril Islands. According to Moscow's Defense Ministry, a Virginia-class US Navy submarine was detected Feb. 12 off Urup Island, where Russia's Pacific Fleet was conducting exercises. The Defense Ministry said the submarine was chased off by Russian vessels, and retreated at "maximum speed." The statement accused the US of a "violation of Russia's state border." The Pentagon issued a statement, saying: "There is no truth to the Russian claims of our operations in their territorial waters." US President Joe Biden and Russia's Vladimir Putin spoke by phone for an hour later that day to discuss Ukraine, but according to the Kremlin the Kurils incident was not brought up. (TASS, Reuters)
Media accounts did not emphasize that whether this purported incident indeed took place in Russian waters is questionable, as the Kurils are in part claimed by Japan. At the February 1945 Yalta Conference, the US supported Soviet claims to the Kuril Islands, which were seized from the Japanese in the closing days of World War II that August. However, Japan continued to claim four islands in the chain. A Soviet-Japanese Joint Declaration on outstanding border conflicts in 1956 put off the question of the disputed islands to a future peace treaty. At this time, the US stated that the southernmost islands of Etorofu and Kunashiri have historically been sovereign Japanese territory, and therefore should be considered excluded from terms of the Yalta Declaration. Tokyo still refuses to recognize Russian rule over the disputed islands, which has effectively prevented Russia and Japan from ever entering a treaty to formally end their World War II hostilities. (Modern Diplomacy, EU Reporter, Centre for Security & Strategy Studies, New Delhi)
Urup is the next island to the north of the Japanese-claimed Etorofu (Iturup to the Russians), separated by just some 25 kilometers.
Two days before the supposed incident off Urup, a Russian Foreign Ministry representative accused Tokyo of fueling "hysteria" over the Kuril Islands question. Last year, Russia passed sweeping legislative reforms that, among an array of other measures, made it unconstitutional to cede territory to a foreign power. (WION News, India)
Russia over the past weeks has conducted naval maneuvers in the Mediterranean, the North Sea, and northeast Atlantic Ocean, as well as the Pacific and Sea of Okhotsk. The drills together involved 140 warships and support vessels, 60 planes, and about 10,000 troops. (Al Jazeera) The Kuril Islands form the barrier separating the Sea of Okhotsk from the open Pacific Ocean.