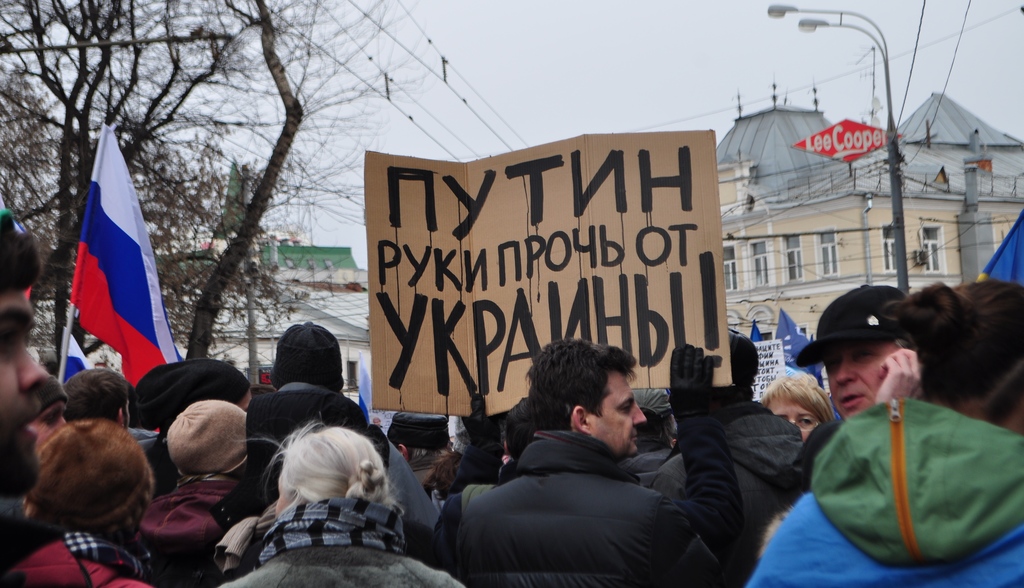 More than 100 Russian writers, activists and academics have signed a petition in protest of the war drive on Ukraine, which was published on the independent news site Echo of Moscow on Jan. 30. The "Declaration by supporters of peace against the Party of War in the Russian government" charges: "The citizens of Russia are…becoming prisoners of criminal adventurism." It has especially harsh words for Russia's state media: "On state TV there is only one point of view, and that is the point of view of the supporters of war… [A]ggression pours out, and hate towards Ukraine, America, and Western countries… [W]ar is treated as an acceptable and inevitable development of events."
Ironically, this was reported by Kremlin state media outlet RT, which does not fail to remind us that one of the initiators of the petition, human rights advocate Lev Ponomaryov, "has been labeled a 'foreign agent' by Moscow's Ministry of Justice over links to funding from abroad." (RT does fail to mention that in addition to being thusly labeled, Ponomaryov was also imprisoned in 2018 for a Facebook post calling for peaceful protests on behalf of jailed activists.) Other signatories include Boris Vishnevksy, a leader of the liberal opposition party Yabloko, and Lev Gudkov of the Levada Center think-tank—who RT emphasizes is also officially designated a "foreign agent."
The comments from RT's readers are perfectly predictable: "Almost sure that Victoria Nuland, CIA and NED are behind this petition signatories." "Is 100 imbeciles even news?" Et cetera.
The US State Department-linked Radio Free Europe/Radio Liberty reported last March that Ponomaryov was forced to shut down his organization For Human Rights after being labelled a "foreign agent." In September, RFE/RL reported that the walls of the Moscow apartment bloc where Ponomaryov lives were vandalized with "hate messages" on his 80th birthday. Spray-paint reading "Hide-out for the defender of terrorists" was scrawled on the wall outside his flat. Ponomaryov greeted the graffiti defiantly, calling the scrawlings "congratulatory messages" and a "gift."
The UK's openDemocracy recalls that mass protests were held in Moscow in March 2014, when Putin's last Ukraine intervention was launched—in contrast to the relative silence this time around. Interviewed is Sergei Davidis, a board member of the Memorial Human Rights Center, who has this to say about the difference between 2014 and now: "Russia's repressive apparatus has tightened the screws on society even further. Both the scale and cruelty of repressions against protesters and activists have grown."
The Memorial Human Rights Center is also now threatened with closure under the "foreign agents law." Strangely, amid all this, the Kremlin media machine continues to be looked to as some kind of positive "alternative" by "anti-war" (sic) types in the West.
Photo: Sign reads "Putin, hands off Ukraine!" Moscow, March 2014. Via RS21