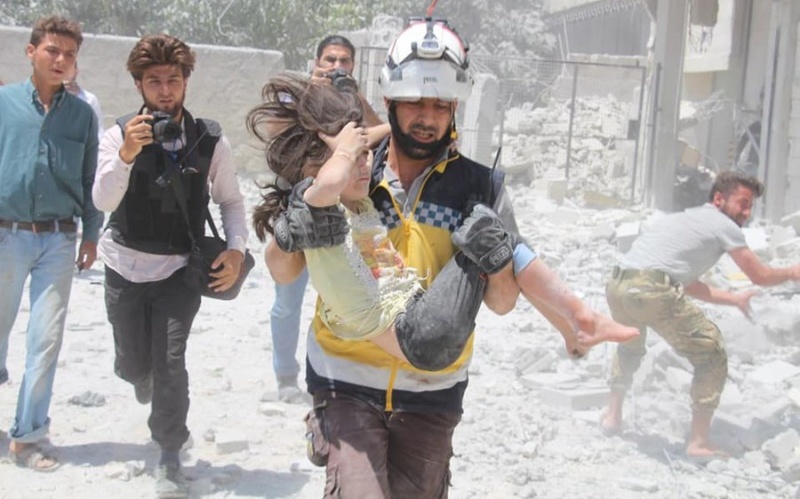 Human Rights Watch condemned Russia and the Syrian government in a report Oct. 15 for launching at least 46 documented deadly attacks on civilians and civilian infrastructure in Syria's northern Idlib province. The report reveals that the Russian-backed offensive targeted hospitals, schools, markets, and other essential facilities for over 11 months from April 2019. HRW contends that these attacks violated international humanitarian law and may constitute crimes against humanity. The HRW claims are supported by a similar report from Amnesty International in May 2020, which detailed 18 unlawful air and ground attacks on schools, hospitals and other civilian infrastructure in northwest Syria.
These numbers represent only a fraction of the attacks occurring in the region. Witnesses and local authorities say the 46 documented attacks killed at least 224 civilians and wounded 561 others. Healthcare workers report that most victims suffered from wounds inflicted by munition fragments and building debris. In addition to harming civilians directly, the attacks have also adversely impacted public health, education, and the standard of living in Idlib by restricting access to food, water, and housing. Both the Syrian government and Russia exacerbated this crisis by blocking humanitarian aid to the region.
Having interviewed more than 113 victims and witnesses, HRW found no evidence of military targeting in these attacks. Instead, most attacks occurred far away from active battle zones between pro-government forces and rebels. Moscow and Damascus contend that the attacks were "counterterrorism" measures.
Despite repeated allegations from the United Nations, senior Damascus and Moscow officials have continued to deny that their military actions have violated any international laws of war. Russia and the Bashar Assad government have been widely criticized for these denials during the last 21 United Nations Security Council meetings and at least two United Nations Human Rights Council sessions.
From Jurist, Oct. 17. Used with permission.
Note: A UN Human Rights Council report released in July most recently concluded that air-strikes on civilian infrastructure by Assad regime and Russian forces in Idlib and elsewhere in Syria's northwest amounted to war crimes.
One year ago, Russia officially pulled out of Additional Protocol I to the 1949 Geneva Convention, on protection of civilians in international armed conflict. Additional Protocol I was ratified by the Soviet Union's Supreme Council in 1989. In an October 2019 letter announcing Russia's withdrawal, Vladimir Putin said that the International Fact-Finding Commission established to enforce Protocol I had become politicized: "In the current international environment, the risks of the commission's power abuse by the states, which are acting in bad faith, are increasing significantly." Russia is now the only signatory country to have pulled out of Protocol I. The Unied States signed in 1977, but is one of a handful of signatory states that have failed to ratify.
Both Russia and the United States were among the initial signatories to the Rome Statute that established the International Criminal Court, but the US announced its intention not to ratify in 2002, and Russia formally withdrew from the statute in 2016. Neither country is today among the parties to the statute.
Photo via EA Worldview