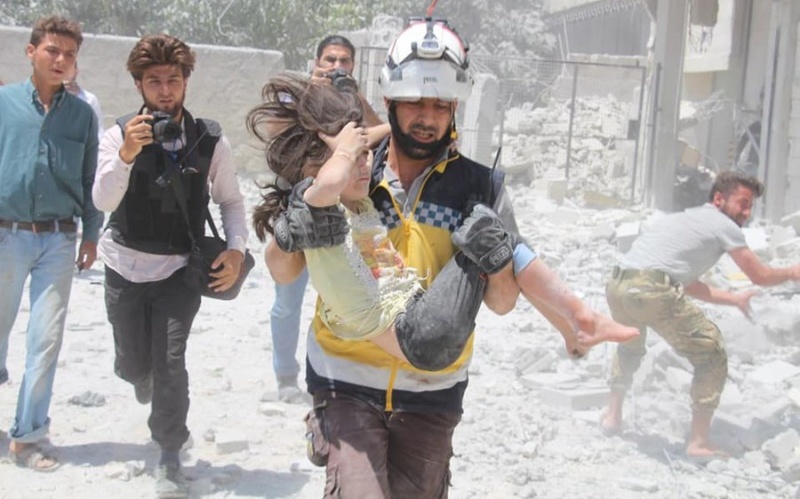 A United Nations Human Rights Council report released on July 7 concluded that air-strikes on civilian infrastructure by Syrian government and Russian forces in Idlib and Aleppo provinces amounted to war crimes. The report, prepared by the UN-mandated Independent International Commission of Inquiry on the Syrian Arab Republic, assessed incidents that occurred from November 1, 2019, to June 1, 2020. The Syrian government and Russian Aerospace Forces carried out both land and air attacks, which destroyed civilian infrastructure. The report documented 52 "emblematic attacks" that led to civilian casualties or damage to civilian infrastructure. These included 17 attacks on hospitals and medical facilities as well as 14 attacks on schools.
These 52 attacks were overwhelmingly attributed to Syrian "pro-government" and Russian forces, although a small percentage were attributed to Hayatt Tahrir al-Sham (HTS), a UN-designated "terrorist group" which is now the most significant armed opposition force in Idlib. All but one of the 17 attacks on medical facilities were attributed to Russian or "pro-government" forces. Of the 14 attacks that damaged schools, three were attributed to HTS. Of the nine attacks on markets, two were attributed to HTS. Of 474 civilian casualties documented in the attacks, 46 were attributed to HTS. However, the report concluded that HTS as well as "pro-government" and Russian forces are likely guilty of war crimes.
"It is completely abhorrent that, after more than nine years, civilians continue to be indiscriminately attacked, or even targeted, while going about their daily lives," said Commission of Inquiry chair Paulo Pinheiro. "Children were shelled at school, parents were shelled at the market, patients were shelled at the hospital…and entire families were bombarded even while fleeing. What is clear from the military campaign is that pro-government forces and UN-designated terrorists flagrantly violated the laws of war and the rights of Syrian civilians." (Jurist)
United Nations reports have repeatedly found substantial evidence of Russian warplanes being directly involved in "war crimes" in Syria, including the bombing of hospitals and civilian areas in Idlib and elsewhere in the northwest.
Photo via EA Worldview