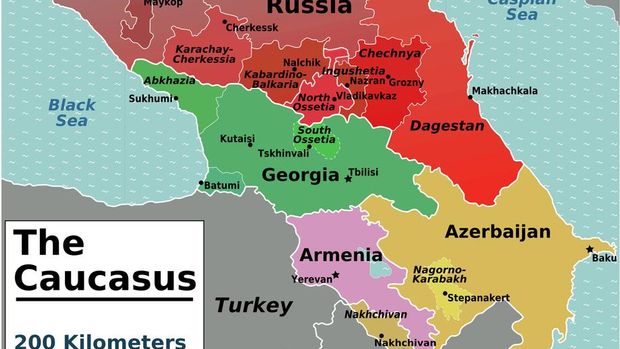 The Constitutional Court of the Russian Federation, the highest court in Russia, on Dec. 6 upheld a decision to draw a border between the republics of Ingushetia and Chechnya. In September the two republics signed an agreement to define the border between them. This was the first time that the border has been defined since the split of the Chechen-Ingush Autonomous Soviet Socialist Republic after the collpase of the USSR. The agreement became law in each republic in October, but a group of Ingush deputies challenged the law in the Republic of Ingushetia. The case was heard in the Ingush Constitutional Court, which held that the law and agreement cannot be legally binding without passing a referendum. The Ingush Republic's head, Yunus-Bek Yevkurov, appealed this decision to the highest court in Russia. He asserted that the Ingush Constitutional Court did not have the authority to decide on this question, but that it was a question for the Russian high court.
The Russian Constitutional Court held that an agreement establishing a border with a neighboring republic is not required to go through a referendum in order to be ratified. The final decision by the court states:
[T]he Agreement on Border Delimitation between the Republic of Ingushetia and the Chechen Republic, and the Law of the Republic of Ingushetia which has enshrined the latter, does not contradict the Constitution of the Russian Federation.
The court reasoned that the republics were not attempting to redraw pre-existing borders, but rather to resolve their "mutual need to establish a border." Therefore, the republics did not need to request approval of the borders from the Council of the Federation. Further, the law of the Republic of Ingushetia only requires a referendum or consideration of the population's opinion when the borders are changed, not when the borders are being defined for the first time.
Under this decision, the Republic of Ingushetia and the Chechen Republic were within their authority when they made the agreement to define the borders between their respective republics.
From Jurist, Dec. 6. Used with permission.
Note: The Chechen-Ingush border dispute has sparked violence in recent years, and been exploited by Islamists who seek to create a "Caucasus Emirate" covering both republics, a resurrection of the insurgent state established by Muslim rebels in the 19th century.