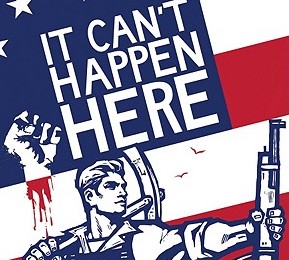 In Episode 54 of the CounterVortex podcast, Bill Weinberg explores the twin threats of a totalitarian order that the United States faces at this history-making moment: Trump-fascism, perhaps to be lubricated by a "Reichstag Fire" scenario ahead of the November election, and a post-pandemic "new normality" of complete surveillance and social control. Eerily predictive of these twin dystopias are two works of "future fiction" from the 20th century—It Can't Happen Here by Sinclair Lewis and The Machine Stops by EM Forster. With the Black Lives Matter uprising deepening the ugly backlash from the Trump camp and a COVID-19 "second wave" looming, the US is poised on a razor's edge between long-overdue leaps of social progress and descent into some kind of updated American variant of fascism. Listen on SoundCloud or via Patreon.
Production by Chris Rywalt
We ask listeners to donate just $1 per episode via Patreon. A total of $30 per episode would cover our costs for engineering and producing. We are currently up to $25.
1936 WPA Theatre Project poster via Minnesota Playlist