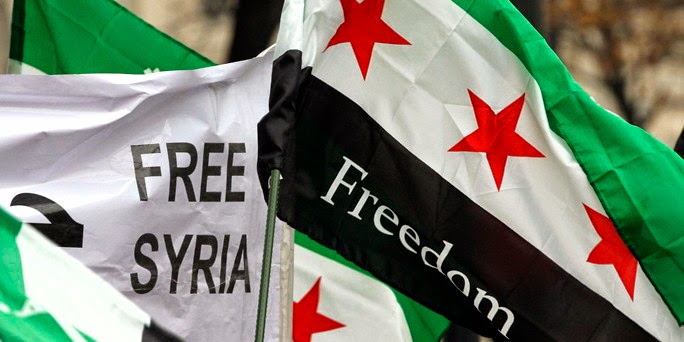 In Episode 32 of the CounterVortex podcast, Bill Weinberg reads from George Orwell's 1945 essay "Notes on Nationalism," and explains why despite his anarchist politics he is willing to march under the Mexican flag but not "Old Glory," under the Palestinian flag but not the Israeli, under the Tibetan flag but not that of the People's Republic of China—and under the Free Syrian flag but not that of the Assad dictatorship. The Free Syrian flag flown by the rebels and opposition is the original flag of an independent Syria, and now represents the struggle to free the country from a one-family dynastic dictatorship massively propped up by foreign powers. Weinberg especially calls out the depraved Max Blumenthal for purveying a version of events in Syria starkly at odds with reality. Weinberg invites listeners to join the Syria Solidarity NYC contingent at New York's May Day march, gathering 5 PM at the Sixth Ave. entrance to Central Park. Listen on SoundCloud, and support our podcast via Patreon.
Music: The Foggy Dew by Charles O'Neill, performed by Bill Weinberg
Production by Chris Rywalt
Follow Syria Solidarity NYC on Twitter
We ask listeners to donate just $1 per episode via Patreon. A total of $30 per episode would cover our costs for engineering and producing. We are currently up to $20.