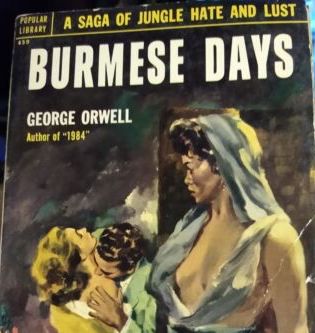 In Episode 191 of the CounterVortex podcast, Bill Weinberg revisits George Orwell's first novel, Burmese Days (1935), to see if it offers any insight into the current crisis in Burma. The novel is actually problematic in its portrayal of the Burmese, but Orwell's anti-colonialist views are better articulated in his little-known 1929 essay "How a Nation is Exploited: The British Empire in Burma." Ironically, the factors he identified as necessitating "despotic" rule by the British in Burma still mandate dictatorial methods by the regime today—such as the imperative to pacify "frontier areas" where indigenous peoples wage pro-autonomy insurgencies. Listen on SoundCloud or via Patreon.
Production by Chris Rywalt
We ask listeners to donate just $1 per weekly podcast via Patreon—or $2 for our special offer! We now have 58 subscribers. If you appreciate our work, please become Number 59!
Image via eBay