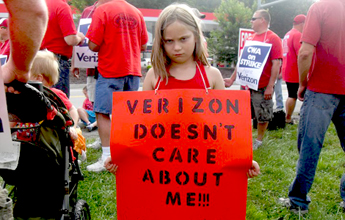 In Episode 25 of the CounterVortex podcast, Bill Weinberg protests that he has now been deprived of phone and Internet access by Verizon for more than two months, and discusses the greater social implications of this dilemma. Donald Trump, who is a fascist by any reasonable definition, has now shut down the federal government and is threatening to declare a national emergency in order to build his border wall. Lack of other net access at this critical moment has forced Weinberg to use a cell phone in order to have any voice as a writer and activist—while cellular technology is itself inherently abetting the descent into fascism. Not only does it create a totalizing propaganda environment, but it is degrading our attention spans, literacy and critical thinking skills. It also creates a totalizing surveillance environment that can ultimately be exploited by government as well as private interests. But we accept it in the name of "convenience" and the illusion of consumer "choice," and few even recognize technological "progress" (note: propaganda word) as something that needs to be resisted. This emerging dystopia combines the worst aspects of George Orwell's 1984 and Aldous Huxley's Brave New World: we are complicit in the extinguishing of our own freedom because we have been conditioned. Weinberg calls for practical action to slow (at least) the totalizing aspect of this dystopia: keeping alive space for the print world and the meat world, and demanding that Verizon and other service providers maintain landline infrastructure. Listen on SoundCloud, and support our podcast via Patreon.
Erratum: The New York Assembly member who hosted the community meeting of irate Manhattan landline users is Deborah Glick, not "Carolyn" Glick. (Sorry, Deb.)
Production by Chris Rywalt
We ask listeners to donate just $1 per episode via Patreon. A total of $30 per episode would cover our costs for engineering and producing. We are currently up to $19.
New episodes are produced every two weeks.
Photo: IBEW