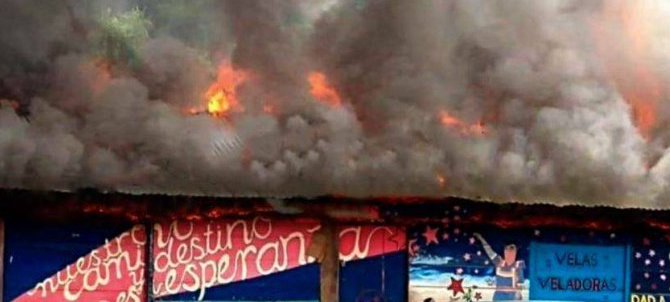 A communal coffee warehouse in one of the rebel Zapatista base communities in Mexico's southern state of Chiapas was burned down Aug. 22, in an attack by a rival campesino group that operates a paramilitary force in the area. The New Dawn of the Rainbow Commercial Center, maintained by small coffee cultivators loyal to the Zapatista rebel movement, was attacked by followers of the Regional Organization of Ocosingo Coffee Growers (ORCAO), according to a statement from the National Indigenous Congress (CNI). The warehouse was located at the community of Cuxuljá, part of the Zapatista autonomous municipality of Moisés Gandhi, which lies within the "official" municipality of Ocosingo.
In response to the attack, a group of prominent Mexican cultural and intellectual figures, including popular singer Julieta Venegas, issued a statement, protesting: "This new aggression is part of the intensification of the war of attrition in the state of Chiapas, characterized by an increase in violence by paramilitary groups and organized crime." (Chiapas Support Committee, ContraLinea, Diario de Chiapas, Expreso Chiapas, La Jornada)
On June 14, following mediation by the Diocese of San Cristobal de Las Casas, three adherents of the  National Front of Struggle for Socialism (FNLS) were released after being held for several days in Ocosingo by the ORCAO-linked paramilitary group Los Petules. Local FNLS followers in turn handed over an ORCAO adherent who had been seized in retaliation. The exchange took place in the nearby city of San Cristobal, seat of the diocese. (SiPaz)
Chiapas has for years suffered ongoing low-level paramilitary violence. ORCAO has been repeatedly involved in violent land disputes with Zapatista base communities, some of which have turned deadly.
Photo via EspoirChiapas