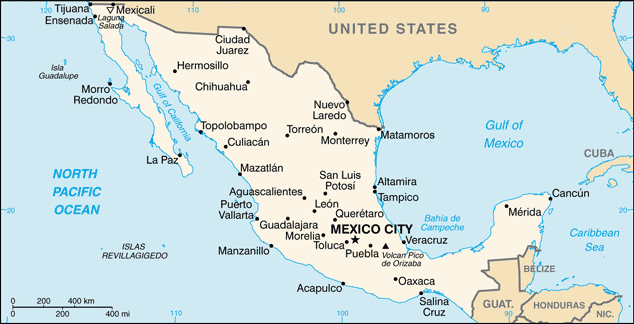 Residents of Jesús María barrio in Culiacán, capital of Mexico's Sinaloa state, marched on the governor's palace Jan. 9 demanding action on the whereabouts of 140 community members they say have been missing since violence engulfed the city after the arrest of a top cartel kingpin four days earlier. The youngest of the missing residents is said to be 12 years old. Protesters also denounced abuses by the military troops that have been patrolling Culiacán since the outburst, including illegal detentions and home searches. (Aztec Reports, La Verdad, Juárez)
Mexican military troops apprehended Ovidio Guzmán López in an operation that left 29 dead—including 10 soliders—in the wee hours of Jan. 5. The son of the infamous Joaquín "El Chapo" Guzmán, imprisoned in the US since 2017, Ovidio, 32, was said to oversee sucessor organizations to his father's Sinaloa Cartel, known locally as the Pacific Cartel—variously identified as Los Menores faction or Los Chapitos.
Following the arrest, violence exploded in Culiacán as Ovidio's followers erected blockades and engaged in armed skirmishes with the security forces. Three local airports were closed, with highways blocked by burning cars and trucks. An attempt to arrest Ovidio in October 2019 led to similar violence, resulting in his release.
Guzmán was flown to Mexico City, where he is reportedly being held at the elite Campo Militar 1. (Aztec Reports, El Pais, Spain, BBC News)
Deadly prelude in Ciudad Juárez
New Years Day also saw violence in Ciudad Juárez as soldiers and police were deployed in response to a deadly jailbreak at the city's Cereso No. 3 prison. Chihuahua state authorities said that 10 guards and security officers were killed, along with four prisoners, and that 24 inmates escaped. The violence apparently began in a conflict between rival gangs at the facility—a repeated pattern throughout Latin America. (El Paso Times)
Ciudad Juárez has long been the scene of a struggle between the Sinaloa Cartel and the local Juárez Cartel. Last August saw the arrest of Carlos Arturo Quintana AKA "El Ochenta," accused leader of "La Línea" gang, said to be an enforcement arm of the Juárez Cartel, implicated in much violence in the border zone. He was arrested by a mixed force of federal police and army troops in the town of Namiquipa in western Chihuahua, and promptly extradited to the United States. (Univision, Sol de Mexico, El Paso Times, El Pais, Madrid)
…and in Tijuana
Earlier in August, the US Consulate General in Tijuana issued a "shelter in place" order for government employees as rival gangs torched cars in a score-settling spree in several Baja California cities. At least 19 vehicles were set on fire in Tijuana, Mexicali, Ensenada, Tecate and Rosarito. Authorities blamed the Jalisco New Generation cartel, another rival of the Sinaloa syndicate. (KFMB, San Diego, BBC News)
Washington seeks its own score-settling
Legendary drug lord Rafael Caro Quintero, long on the FBI's most-wanted list, was captured in July by Mexican forces in the Sinaloa mountian pueblo of San Simón. A Mexican navy Blackhawk helicopter carrying 15 crashed near the coastal city of Los Mochis during the operation, killing all but one of those on board. The arrest came three days after President Andrés Manuel López Obrador met with his US counterpart Joe Biden at the White House.
Although wanted in the torture-killing of a DEA agent in 1985, Caro Quintero walked free in 2013 after 28 years in prison when a court overturned his 40-year term for the murder. Mexico's Supreme Court later upheld and re-instated the sentence. But by then, the erstwhile leader of the Guadalajara Cartel had disappeared. He is currently fighting his extradition to the US in the Mexican courts. (PRI, AP, CNS, CNS)
Map: PCL