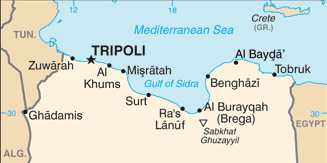 Heavy fighting broke out in Libya's capital city of Tripoli on Aug. 27, killing at least 32 people and raising concerns of a return to all-out war.  Civilians were reportedly among those killed and injured in the clashes between forces loyal to Libya's two rival governments: a Tripoli-based Government of National Unity headed by Prime Minister Abdulhamid al-Dbeibah, and a House of Representatives based in the eastern city of Tobruk that chose its own prime minister for the country, Fathi Bashagha, in February.
Al-Dbeibah—who was selected in an interim capacity to lead a UN-backed political transition—has refused to step down, saying he will only hand over power to an elected parliament. The Tobruk legislature was elected in 2014 in national polls that had extremely low turnout, and rivals have since questioned its validity.
National presidential and parliamentary elections were planned for last December but indefinitely postponed due to disagreements over election rules, including who was eligible to run.
The Tripoli fighting is the worst Libya has seen since an October 2020 ceasefire brought an end to more than a year and a half of fighting, mostly focused on the capital city, during which hundreds of thousands of civilians were forced to flee their homes. The country as a whole has seen little real peace since the 2011 ousting of dictator Moammar Qaddafi.
Condensed from The New Humanitarian, Aug. 29
The Government of National Unity is a new effort to unite the former Government of National Accord (GNA) and its rivals. See our last report on the political crisis in Libya.