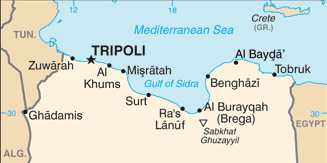 The United Nations Support Mission in Libya (UNSMIL) on July 4 released a report containing evidence of mass graves in the Libyan city of Tarhuna, southeast of Tripoli. The report estimates there could be as many as 100 undiscovered mass graves in the city. It claims that the al-Kaniyat militia, in power in Tarhuna from 2016 to 2020, is responsible for mass killings there. The militia is alleged to have used brutal torture methods on residents including women, children, the infirm, and the disabled.
The report graphically details these and other human rights violations by the militia, which has since been driven out of Tarhuna. UNSMIL calls on Libyan authorities to "[e]stablish a Special Tribunal for Tarhuna to prosecute international crimes" and "[c]ontinue searching for the missing and for remaining mass graves…"
The report concluded that major human rights laws have been broken, saying:
The Mission finds reasonable grounds to believe that the crimes against humanity of extermination, imprisonment, torture, persecution and enforced disappearance were committed by members of the al-Kaniyat militia against a defined population in Tarhuna since they asserted control over the town until June 2020. These crimes were committed in a widespread manner, whereby the al-Kaniyat systematically targeted and eliminated all actual and perceived opposition with total impunity.
The UN's Independent Fact-Finding Mission (IFFM) on Libya on June 29 reported that Libyan authorities and armed groups have committed crimes against humanity, war crimes, and gross human rights violations under international law. The IFFM documented 27 places of detention in the eastern and western parts of Libya and reported that migrants were subject to "systematic use of prolonged arbitrary detention," including the detention of thousands of migrants in secret and extra-legal prisons.
Combined from Jurist, July 4; Jurist, June 30
Note: The al-Kaniyat militia is aligned with forces of warlord Khalifa Haftar. The migrant detention centers are largley run by forces aligned with the UN-recognized Government of National Accord (GNA).