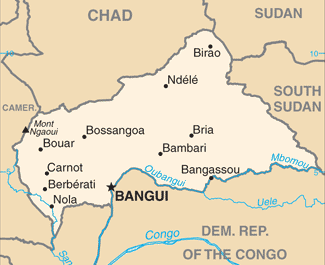 The International Criminal Court (ICC) on March 14 announced that former militia leader Maxime Jeoffroy Eli Mokom Gawaka (Mokom), who is suspected to have committed war crimes and crimes against humanity in the Central African Republic (CAR), has been surrendered by the Republic of Chad. A warrant for his arrest was issued in December 2018, when the ICC's Pre-Trial Chamber II determined that Mokom was the "National Coordinator of Operations" for the Anti-Balaka militia. In this capacity, he is believed to have committed murder, deportation, imprisonment, torture, persecution and other crimes against humanity. He also allegedly committed war crimes by targeting civilians.
The ICC issued the arrest warrant following the Chamber's determination that a "non-international armed conflict" occurred in the CAR between September 2013 and December 2014, with the Seleka and the Anti-Balaka the principal antagonists. The Seleka is a coalition of armed groups comprising Muslims who took up arms against then-president François Bozizé. The Anti-Balaka then rose in support of Bozizé, and to fight the Seleka. The Chamber found that attacks had been carried out by the Anti-Balaka against the Muslim civilian population, Seleka supporters, and others perceived to be "foreigners." As leader of the Anti-Balaka, Mokom allegedly committed the crimes in pursuit of "an organisational policy to target primarily the Muslim population in Bangui," the country's capital.
In 2014, the CAR government referred the situation involving crimes committed by both the Seleka and the Anti-Balaka to the ICC. The ICC Prosecutor then opened an investigation. The violence caused thousands of deaths and large-scale displacement.
From Jurist, March 15. Used with permission.