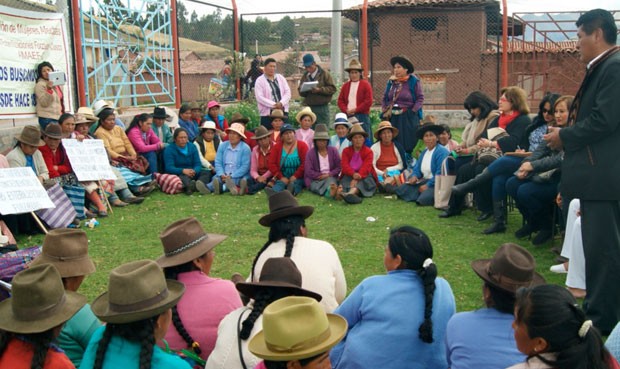 Peru's top public prosecutor Luis Landa Burgos on April 25 ordered that new charges be brought against ex-dictator Alberto Fujimori over the forcible sterilization of thousands of indigenous and peasant women during his time in power in the 1990s. Three of his former ministers, Marino Costa Bauer, Eduardo Yong Motta and Alejandro Aguinaga, are also to face charges, as well as his director of the National Family Planning Program, Jorge Parra Vergara. Also named are presidential advisor Ulises Jorge Aguilar and the health director for Cajamarca region, Segundo Henry Aliaga. Landa said he has an archive of testimony from survivors including Inés Condori, an indigenous woman from Cuzco region who was the first to speak out about the forced sterilization she underwent in 1995. She traveled to the regional capital from her remote village for a check-up after the birth of her fourth child; at the hospital, she was put under general anesthesia and sterilized without her consent.
Testimony was also provided by the surviving children of Mamérita Mestanza of Cajamarca and Celia Ramos of Piura, who both died while undergoing sterilizations they had been coerced into by intimidation and harassment from health workers. Further testimony was provided by Victoria Vigo of Piura, who was sterilized without her consent while undergoing an emergency caesarean in 1996. In 2003, she successfully sued the Peruvian state, winning $2,500 in damages—the only woman among some 300,00 sterilized in the campaign to receive any compensation. The archive includes details on a total of 2,164 cases. (Amnesty International, April 28; UPI, April 27; CNDH, April 25)
A prosecutor in 2014 opened an investigation of Fujimori, Costa Bauer and Yong over the sterilization campaign, but ultimately failed to bring charges. Fujimori, already convicted on other rights abuses and corruption charges, was released from prison following a presidential pardon in December.
Landa is also evaluating the legality of Fujimori's pardon in light of the pending charges against him over the 1992 Pativilca massacre, a grave human rights abuse under international law. Landa is seeking an order from a judge barring Fujimori from leaving the country until the Pativilca case is heard. (El Comercio, April 18)
Photo of sterilization survivors in community meeting from La República via CNDH