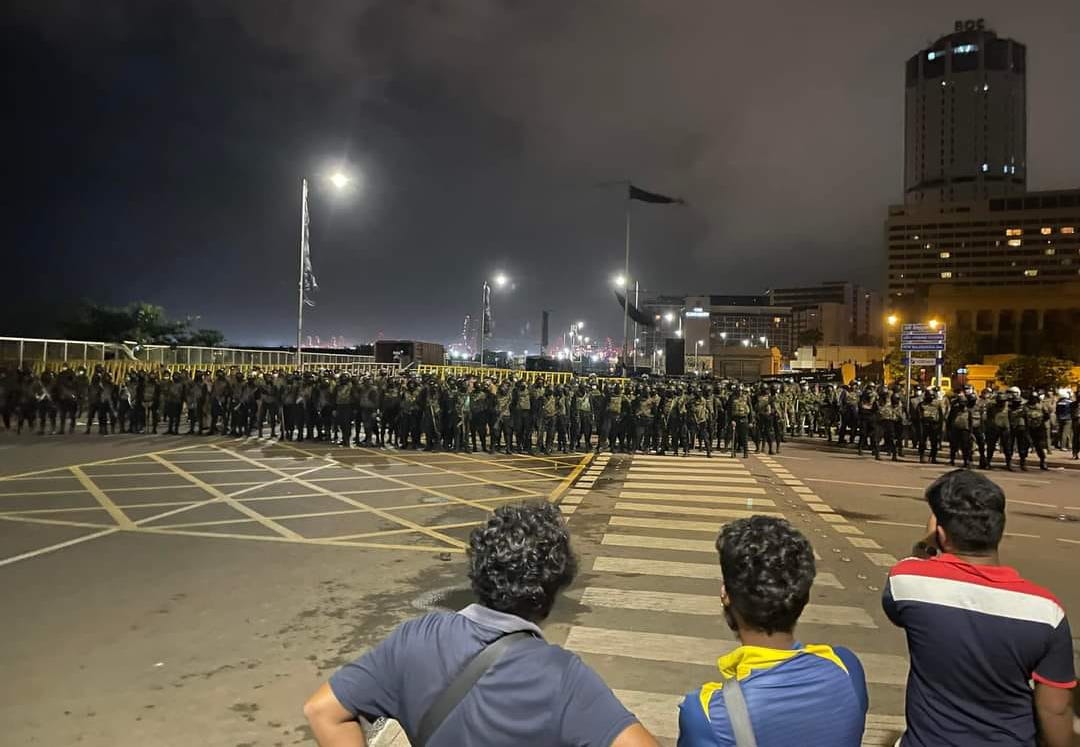 Sri Lanka's newly appointed acting president Ranil Wickremesinghe unleashed police and army troops against remnant protesters at an encampment site in the capital, Colombo, in the early hours of July 22. More than 50 were injured in the raid and some 10 arrested. Military personnel also reportedly detained a small group of protesters for several hours and severely beat them before they were released. Just hours before the raid, protest leaders had announced that they would disband the encampment the following day, in response to a court order. The site had been occupied by protesters since March, when an uprising began in response to near-total economic collapse in the country.
"Just one day after taking office, President Wickremesinghe oversaw a brutal assault by security forces on peaceful protesters in the heart of Colombo," Human Rights Watch said in a statement. "This action sends a dangerous message to the Sri Lankan people that the new government intends to act through brute force rather than the rule of law." (NDTV, Jurist)
Wickremesinghe was sworn in as interim president on July 21 after receiving 134 votes out of the 225 in Parliament. The previous government of Gotabaya Rajapaksa had days earlier collapsed amid mass protests over the economic agony. A state of emergency was declared as Rajapaksa fled on July 13, when the presidential palace and prime minister's office were overrun by protesters. Wickremesinghe, then prime minister, assumed executive powers after Rajapaksa formally resigned from exile in Singapore two days later. He immediately extended the emergency decree. (Jurist)
Wickremesinghe has repeatedly used the epithet "fascists" to describe the protesters. After the government offices were overrun July 13, he went on national television to warn: "We can't tear up our constitution. We can't allow fascists to take over. We must end this fascist threat to democracy." (Hindustan Times, The Guardian)
But Wickremesinghe seems to have his own fascistic past—at least. He is named as one of the "Demons of Batalanda," accused of having helped oversee a clandestine prison where detainees were tortured as a government minister in the late 1980s and early '90s. The Batalanda Detention Centre, operated by the government's Counter-Subversive Unit, targeted militants of the People's Liberation Front (JVP by its Sinhalese initials), a Marxist party that was then waging an insurgency. Left opposition parties have long been calling for Wickremesinghe to give a full accounting of his involvement with the Batalanda center. (NewsFirst, LankaWeb, Jurist, The Conversation)
Debilitating national debt is causing inflation to spiral in Sri Lanka just as food and fuel prices are spiking worldwide due to the Ukraine war. The protesters are merely hungry and desperate, despite Wickremesinghe's resort to the increasingly popular propaganda device of fascist pseudo-anti-fascism.
The Sri Lankan government has long been intransigent on accounting for past war crimes, rejecting calls for an international tribunal.
Photo via Twitter