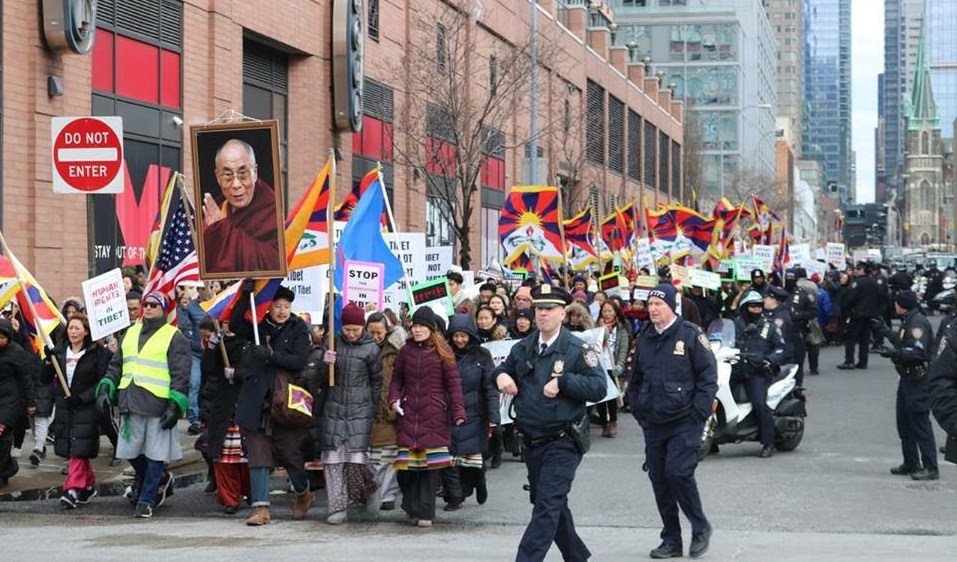 An NYPD officer and Army reservist was arrested by federal authorities Sept. 22 on charges that he has been acting as an agent of China's government and surveilling Tibetans living in the New York City area. Baimadajie Angwang of Nassau County worked as a community liaison officer at the 111th Precinct in Queens and held a "secret" security clearance as a member of the Army Reserves at Fort Dix, according to documents filed by prosecutors in the Eastern District of New York federal court. Court papers say Angwang, a native Tibetan and naturalized US citizen who reportedly served three tours in Iraq and Afghanistan as a Marine, sent information to officials at the Chinese consulate in Manhattan about the activities of ethnic Tibetans in New York.
Angwang had allegedly been working with two officials at the consulate since 2014, including one who was part of the Chinese Communist Party's United Front Work Department, responsible for "neutralizing sources of potential opposition to the policies and authority" of China, court documents state.
Angwang allegedly offered "information from NYPD systems" and provided access to police officials by inviting consular officials to NYPD events. He also sent information about "Chinese ethnic minorities who likely harbored anti-PRC views" to his handler.
"As alleged in this federal complaint, Baimadajie Angwang violated every oath he took in this country. One to the United States, another to the US Army, and a third to this Police Department," said NYPD Commissioner Dermot Shea. "From the earliest stages of this investigation, the NYPD's Intelligence and Internal Affairs bureaus worked closely with the FBI's Counterintelligence Division to make sure this individual would be brought to justice."
Angwang is currently suspended without pay, the NYPD said. Federal prosecutors asked that Angwang be detained because he poses a significant flight risk.
Angwang first came to the US on a cultural visa and then sought asylum, saying he had been arrested and tortured in China because of his Tibetan ethnicity. Prosecutors say he's since traveled several times back to China, which someone fearing torture or persecution would not do—"thus showing that his US citizenship was secured through false pretenses."
Angwang is also charged with wire fraud, making false statements, and obstructing an official proceeding. He did not reveal his contacts with a foreign government when he submitted to a federal background check in 2019, according to the criminal complaint.
If convicted, Angwang faces up to 55 years in prison.
Condensed from Gothamist, Sept. 21