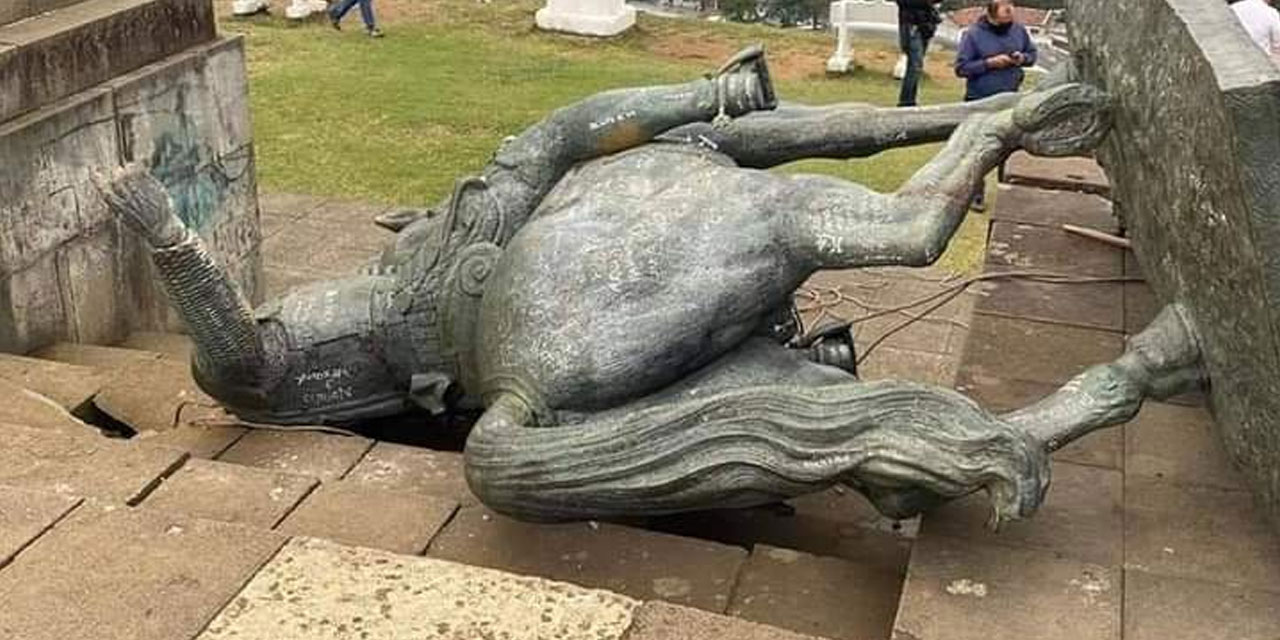 Local indigenous people on Sept. 16 toppled the statue of the conquistador Sebastián de Belalcázar in Popayán, capital of Colombia's southwestern Cauca department. The statue came down 84 years after local authorities had erected it atop of Morro de Tulcán, a hill that had been a sacred site for the Misak indigenous people. The Movement of Indigenous Authorities of the Southwest (MAIS) issued a statement saying the move to overturn the monument was taken following a decision by traditional elders of the Misak community. The monument to Belalcázar, who founded Popayán in 1537, had long been viewed as an insult to the native population of Cauca, Colombia's most heavily indigenous region. Maria Violet Medina, a leader from the local Nasa indigenous people, said: "The conquistadors brought disease, both physical and spiritual, to indigenous people. It was a genocide. That history isn't told. The statue of Belalcázar represents pain, revictimization, and causes resentment."
Although police stood by as the protestors took down the statue, Popayán Mayor Juan Carlos Lopez called the incident an act of violence and vowed to restore the monument.
Many Colombians across the country have celebrated the toppling of the statue, calling the act of protest "historic." Tweeted left-opposition senator Gustavo Petro, "The monuments to the conquistadors and slaveholders are an insult to the people of Colombia, its indigenous and its Black ethnicity."
Supporters of right-wing President Iván Duque, however, are appalled. His culture minister, Carmen Vázquez, also condemned the incident as a "violent act" and defended such monuments as a part of Colombia's cultural heritage.
Misak leaders issued a statement Sept. 25 reporting an increase in threats and harassment from National Police troops since the statue was brought down. (El Tiempo, Bogotá, Sept. 25; La Razón, Montería, Sept. 19; Colombia Reports, Thomson Reuters Foundation, Semana, Bogotá, Sept. 17)
Photo via Colombia Reports