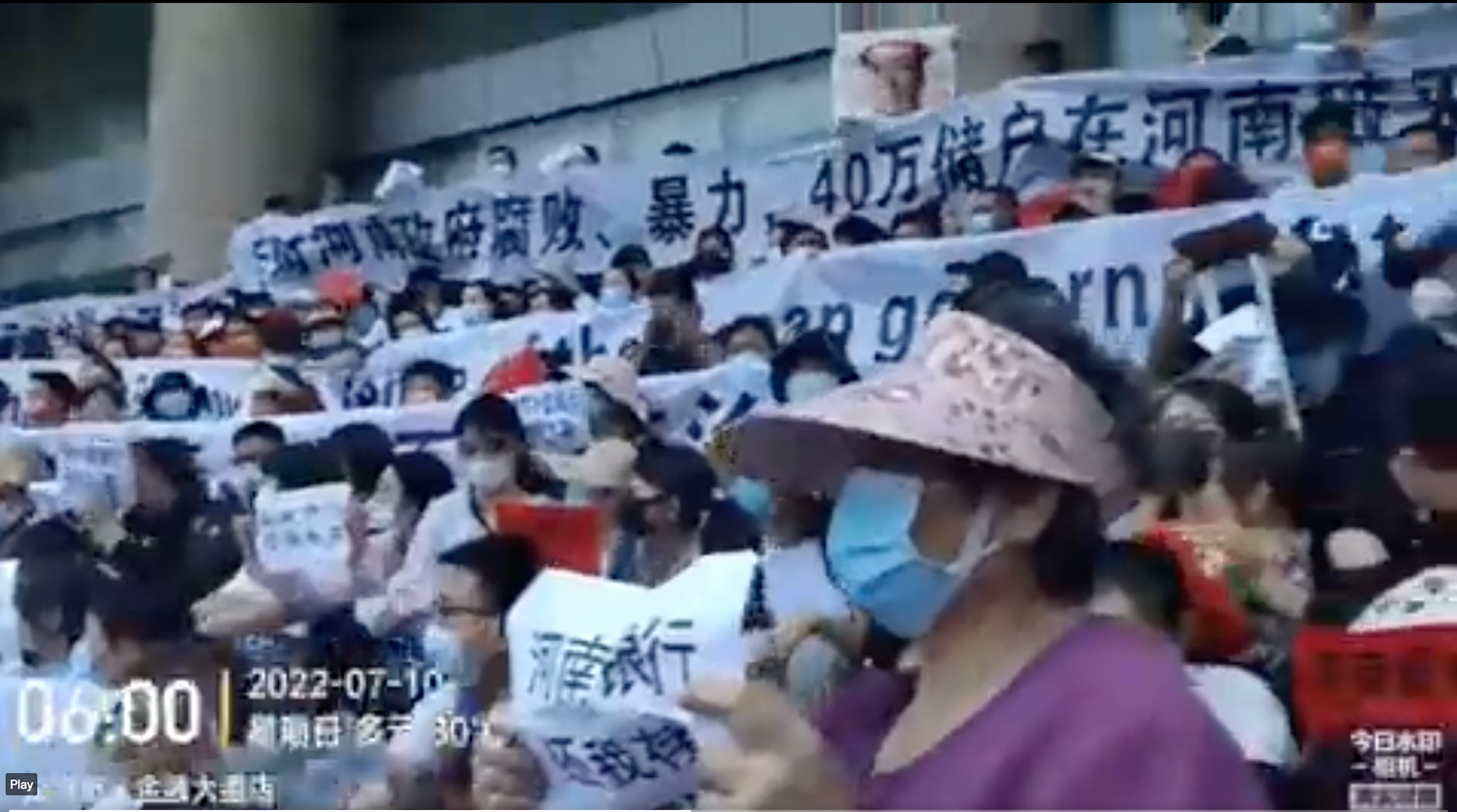 China's banking regulator on July 24 announced that it has opened an investigation into officials at its bureau in Henan province, which this month saw protests by depositors unable to withdraw funds. The China Banking & Insurance Regulatory Commission said a local inspector is suspected of "serious disciplinary violations" concerning fraud and embezzlement at five rural lenders. Several members of a "criminal gang" accused of taking control of the banks have been arrested. The situation turned violent on July 10, after some 1,000 depositors protested outside the People's Bank of China branch in Zhengzhou, demanding access to their savings in frozen accounts. The protesters were assaulted by a group of unidentified men in matching white outfits, as police held back and did not intervene. Video of the incident went viral on social media.
A video of tanks in the streets also distributed on social media (drawing parallels to the Tiananmen Square repression in 1989) was found by fact-checkers to be decontextualized—it was actually footage from Rizhao, Shandong province, with the tanks deployed as part of a military exercise. But the affair reveals the threat of popular unrest at a critical moment in China, especially among the country's struggling peasant class.
The trouble began in April after banks in the central provinces of Henan and Anhui—the Yuzhou Xinminsheng Village Bank, Shangcai Huimin County Bank, Zhecheng Huanghuai Community Bank, New Oriental Country Bank of Kaifeng and Guzhen Xinhuaihe Village Bank—denied depositors access to their funds. Videos from the July 10 protest showed the depositors lined up in rows, holding banners that read "No deposits, no human rights" and "We are against Henan government's corruption and violence," while chanting, "Henan banks, give me my money back" and "[Premier] Li Keqiang, investigate Henan."
In the aftermath of the incident, it was revealed that local officials gamed the health-code system instituted as part of the COVID-19 response to limit the mobility of depositors and prevent them from taking part on any further demonstrations. Affected depositors improperly had their codes turned to "red," despite not having been exposed to the virus. Some who participated in the protest have apparently continued to face harassment from local authorities in their villages.
In addition to the banking imbroglio, China's central government faces a growing mortgage payment boycott across the country—and it is all happening in a politically sensitive year. President Xi Jinping is widely expected to secure a third leadership term at the upcoming 20th National Congress of the Communist Party of China. (CNA, CNA, CNA, France24, ORF, NDTV, SCMP, SCMP, SCMP, SCMP, SCMP, SCMP)
Chinese authorities have been instating a harsh crackdown on the media and human rights defenders amid growing outbursts of social protest since the start of the pandemic.
Photo via Twitter