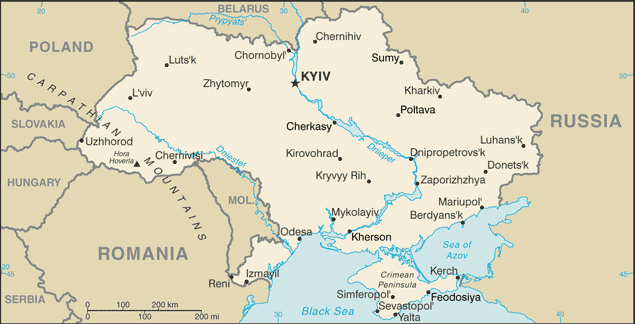 The rights situation in Crimea "has significantly deteriorated under Russian occupation," the UN Human Rights Office finds in a Sept. 25 report (PDF), citing arbitrary arrests. disappearances, torture, infringements of the Geneva Conventions. The report especially highlights discrimination against those who have resisted taking up Russian citizenship. Individuals without Russian Federation citizenship are denied many rights, including the right to vote or run for office, the right to own agricultural land, and the right to register with a religious community. The groups most susceptible to rights violations are "those who formally rejected citizenship; civil servants who had to renounce their Ukrainian citizenship or lose their jobs; and Crimean residents who did not meet the legal criteria for citizenship and became foreigners." This prominently includes the Crimean Tatars, who have strenuously rejected Russian annexation of the peninsula. (RFE/RL, Jurist)
Ukraine's President Petro Poroshenko meanwhile signed a controversial education bill into law that makes Ukrainian the required language in all state schools, eliminating options for minority languages such as Russian and Hungarian. The governments of Russia, Hungary and Romania had expressed concern over the bill when it was first drafted, fearing marginalization of minority rights within Ukraine. With the bill now becoming law, Hungarian Foreign Minister Peter Szijjarto issued a statement calling the law "a shame and a disgrace." He added: "We guarantee that all this will be painful for Ukraine in the future."
Hungary's Ministry of Human Capacities urged Ukraine to consult with its Hungarian minority, saying they had not been involved in the drafting of the law. He warned that "Ukraine's leadership is steering its own country not toward Europe, but toward a dead end."
Hennadiy Moskal, the governor of Zakarpattia Oblast, an area in western Ukraine with a sizable Hungarian community, has been one of the more vocal critics of the legislation, claiming it contravenes the European Charter for Regional or Minority Languages.
Yaroslav Halas, a spokesman for Moskal, expressed what some critics suspect may be the target of the bill. "We understand that this law is primarily directed against the Russian language, because it dominates the capital, the eastern regions. But in Transcarpathia, it hits the national minorities," he told Radio Free Europe's Ukrainian Service. (RFE/RL, Jurist)