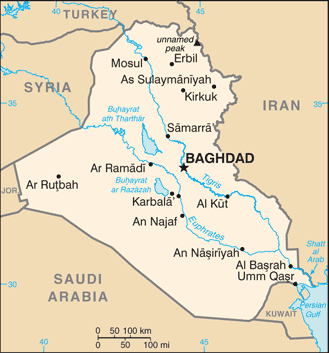 As results come in from the Kurdistan Regional Government's referendum on independence from Iraq, the Baghdad government is rejecting the vote as illegitimate, refusing all talks on the matter and threatening punitive action. "We are not ready to discuss or have a dialogue about the results of the referendum because it is unconstitutional," said Iraqi Prime Minister Haider al-Abadi in a speech broadcast on state TV. Raising the stakes, Abadi has given the KRG until the end of the week to surrender control of its two international airports or face a shutdown of international flights.
KRG President Masoud Barzani says that, while the referendum is technically non-binding, it is a legitimate mandate to negotiate with Baghdad and neighboring countries over the secession of the Kurdish-controlled region from Iraq.
In Istanbul, President Recep Tayyip Erdogan warned that Turkey would shut its border with Iraqi Kurdistan if the KRG continues to push for independence. Erdogan accused Barzani of "treachery" for holding the vote in defiance of international opposition. "If Barzani and the Kurdish Regional Government do not go back on this mistake as soon as possible, they will go down in history with the shame of having dragged the region into an ethnic and sectarian war," Erdogan stated.
The KRG's electoral commission put turnout in the Sept. 25 vote at 72%. Final results are expected imminently, and an overwhelming victory for independence is anticipated. (MEO, MEO, BBC News, NYT)
The vote saw one reported incident of deadly violence, at Tuz Khurmatu, a town of 100,000 that is divided among Kurds and Shi'ite Turkmen, who opposed the referendum. The town is within the "disputed territories," ethnically mixed areas claimed by both the KRG and the central government. A confrontation at a polling place apparently escalated to a clash between Kurdish Peshmerga troops and members of Hashid al-Shaabi, the Baghdad-backed Shi'ite paramilitary network. One Peshmerga solider was killed. (IRIN, NRTV, Reuters)
Before the vote, the Trump administration demanded in strong terms that Kurdish leaders cancel the referendum. "The United States does not support the Kurdistan Regional Government's intention to hold a referendum later this month," said White House press secretary Sarah Huckabee Sanders. "The United States has repeatedly emphasized to the leaders of the Kurdistan Regional Government that the referendum is distracting from efforts to defeat ISIS and stabilize the liberated areas." (Politico, White House)