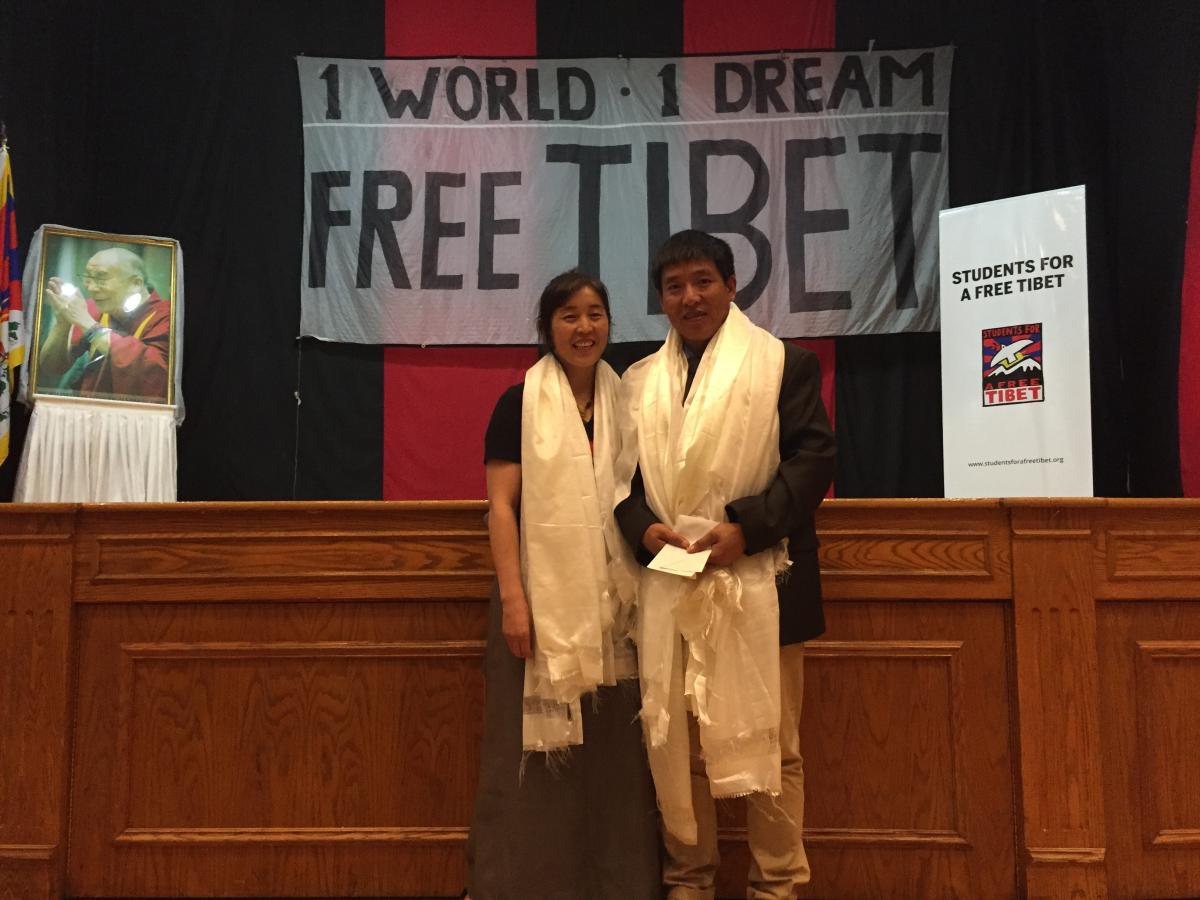 Students for a Free Tibet held a 10-year commemoration of the 2008 Tibetan uprising at a hall n the Queens neighborhood of Astoria, New York City, on Aug. 4. The 2008 uprising, which began in Lhasa in March, continued for weeks and spread across the Tibetan plateau. It was put down at a cost of some 20 lives, by official Chinese figures. But Tibetan rights groups and the government-in-exile in Dharamshala, India, claim that hundreds were "disappeared" in a subsequent wave of repression, with some 200 presumed killed. Amid all this, the Beijing Olympics were held that summer. Students for a Free Tibet and allied groups held protests around the world to highlight the repression—including within China itself during the Games. Photos at the Astoria hall showed activists unfurling banners on the Great Wall and on Mount Everest in Tibet, as well as stateside sites like the Golden Gate bridge.
Guest of honor at the commemoration was Dhondup Wangchen, producer of the 2008 documentary film Leaving Fear Behind, made in the prelude to the uprising, in which ordinary Tibetans spoke of their feelings about China hosting the Olympics. "I explained the risk to life and freedom to those appearing in film," Wangchen said, adding that over a hundred were willing to speak to him anyway—far more than he could use in the film. The footage, from across the Tibetan plateau, was smuggled out and shown at film festivals abroad.
Wangchen was subsequently arrested, convicted of "subversion," and served six years in prison. At the commemoration, he described the harsh conditions, and discrimination suffered by Tibetan inmates. "We go in healthy but come out barely able to walk," he said.
At one point Wangchen said he was offered release if he would "admit" he made the film because the CIA threatened to kill his family in India. He refused. He said Tibetan prisoners were denied phone calls, and at the rare family visits that were permitted, they were only allowed to speak Chinese—not their native tongue. Wangchen said he spent 81 days in solitary confinement for signing a letter to the prison administrators protesting this discriminatory treatment.
Even after his release in 2014, Wangchen said he remained under close surveillance, and had to report his every move to authorities. Finally in 2017 he "escaped" from Tibet, and was granted asylum in the United States. He today lives in San Francisco, with his wife Lhamo Tso, who had waged a campaign for his release, and appeared with him at the commemoration.
Wangchen concluded by discussing the grim situation in Tibet a decade after the uprising. With the language eroding due to its de-emphasis in the education system, young Tibetans increasingly can only speak Chinese. Traditional nomads are being resettled into reservations "completely controlled by the Chinese government." The demographic tilt away from Tibetans in their own homeland continues to advance, as Han Chinese are offered incentives such as subsidies for housing and business to resettle in the territory.
The award given to Wangchen at the ceremony was dubbed Lhakar, the Tibetan word for Wednesday, which has taken on a special significance in recent years. As a form of nonviolent resistance, Tibetans in Tibet make an effort every Wednesday to speak their native tongue, patronize Tibetan businesses, and generally exercise their culture.
Organizers at the commemoration noted that with China set to host the 2022 Winter Olympics, there will be renewed opportunities to bring the question of Tibet to the global stage.
CounterVortex on the scene
Photo: Rose Tang