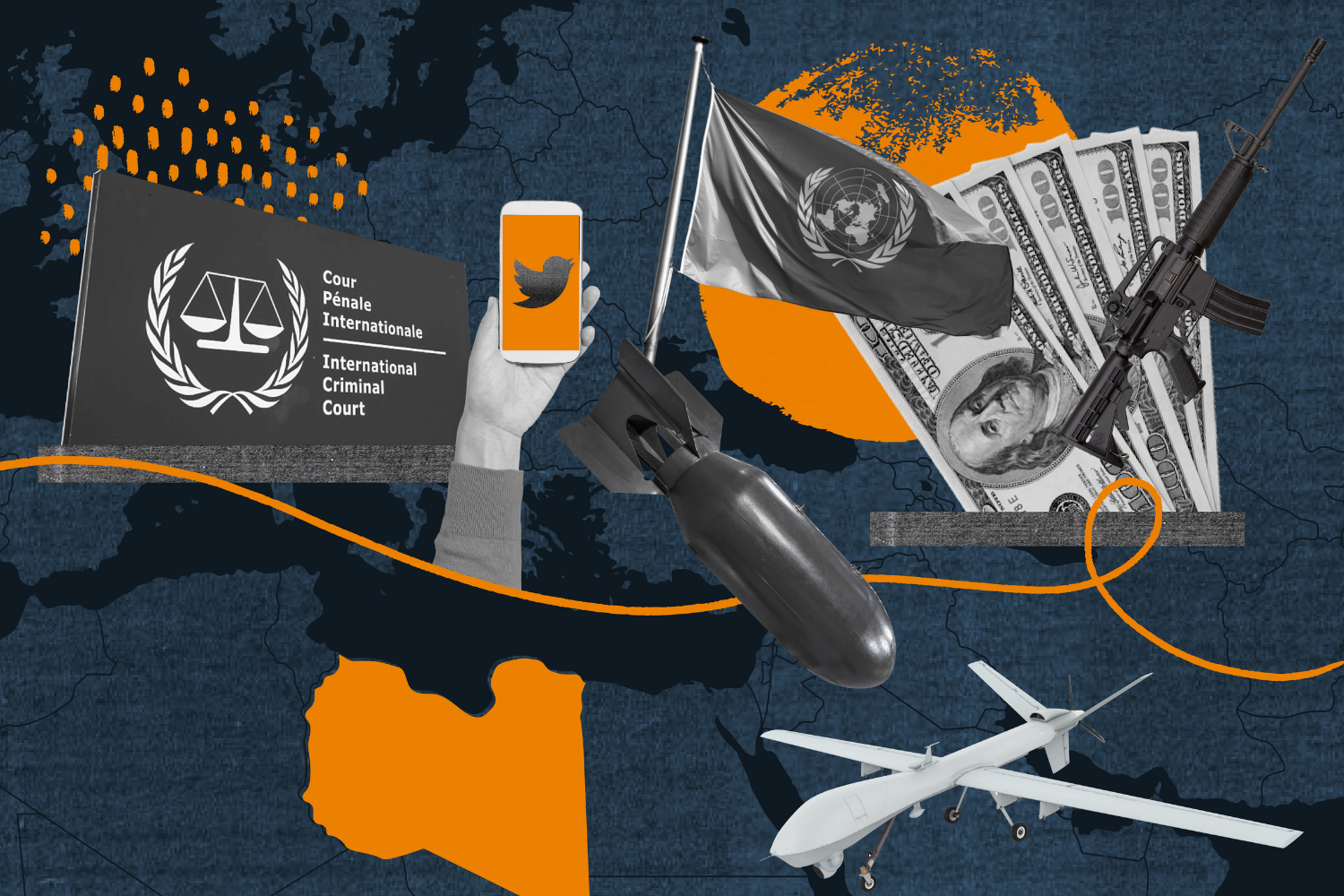 by Elham Saudi & Cristina Orsini, The New Humanitarian
Eleven years ago, courageous women and men took to the streets of Libya with an unflinching desire for human rights, justice, and democracy.
At the time, they were met with an unprecedented international response, ostensibly acting to protect them. The UN Security Council quickly established an arms embargo, a no-fly zone, and a rare referral to the International Criminal Court (ICC); NATO launched airstrikes.
Today, on the anniversary of the day when mass protests against Muammar Gaddafi began, the country's future could not be more precarious. Amidst delayed elections, fragmented governance—as of last week, there are two competing prime ministers—and prospects of renewed conflict, the UN-backed political process that was to set Libya on a path to peace and democracy is unravelling.
The international community has dramatically failed to live up to its promises to support Libya on this journey. In fact, as narrow geopolitical, security, and economic interests have taken center stage, it is making things worse.
Foreign states have turned Libya's conflict into a proxy war with little regard to the impact this is having on the lives of the Libyan people.
In 2020, Libya was ranked one of the worst countries in the world for civilians killed and maimed by explosive weapons. Two years on, an estimated 10,000 people are missing, from both Gaddafi's 40-year rule and the unrest that has followed it. This includes thousands who have been subjected to enforced disappearance.
Critical civil society voices, especially those of women, are silenced by threats, abduction, and killings. The estimated 600,000 migrants, refugees, and asylum seekers in Libya face exploitation, extortion, and enslavement. Allegations of crimes against humanity and war crimes are widespread.
Asked by a researcher from Lawyers for Justice in Libya what they wanted to tell the international community, an anonymous citizen of Tarhouna, a Libyan town that has become known for its mass graves, had this to say: "In 2011, you took action during the revolution; where are you now when crimes are happening in Libya?"
We agree. Libya is an accountability black hole. The international community, including the UN and its member states, must do more to rectify the disorder to which they have contributed.
Entrenching conflict and abuse
Despite a UN arms embargo in place since 2011, Libya has been called "a testing ground for foreign military equipment". Arms have proliferated, including Emirati and Turkish drones, and Russian landmines. The scale of the illegal arms transfers is hard to gauge, but their impact is not, especially for those killed or injured by heavy weapons.
Some foreign states have directly deployed military force. The trend emerged in 2011 when NATO strikes reportedly resulted in as many as 403 "likely civilian deaths', most of which NATO has never acknowledged. Some of the 5,400 strikes that have continued over the last decade were allegedly traced to foreign states, such as the United Arab Emirates and Turkey, including attacks on densely populated areas and civilian facilities.
Tens of thousands of foreign mercenaries from Chad, Sudan, and Turkey, which reportedlyrecruited children from Syria into the fight—as well as Russian private military personnel from the Wagner Group—have also taken part in the hostilities.
The US and Europe also have a questionable track record through their respective obsessions with countering terror and migration. US airstrikes in counter-terrorism operations have allegedly killed civilians in eastern and southern Libya. European states have effectively trapped migrants and refugees in cycles of abuse, with policies that raise the question of European complicity in the commission of crimes against humanity.
In the pursuit of their security interests, both the US and European states have also relied on collaborations with local militias and armed leaders, regardless of their human rights conduct. This has empowered the same groups that are responsiblefor committing atrocities and furthering instability.
Fixing the accountability black hole
Beyond these actions, there is an untold victim of the conflict: accountability. Be it for Libyan factions or for foreign actors doing as they please, the fact that they never have to answer for their crimes only allows for human rights violations and cycles of violence to worsen.
Victims of Libya's conflicts have few channels for accountability. Libya's domestic criminal justice system has effectively collapsed, limiting victims to external mechanisms to seek justice.
Meanwhile, the ICC's mandate to investigate and prosecute international crimes in Libya since 2011 has also done little. In 11 years, the ICC has issued public arrest warrants against five individuals in connection with pre- and post-2011 crimes. None have been arrested and transferred to the court.
It's beyond time for the international community to fix this. While the ICC must work on its own shortcomings, the UN and its member states must, at the very least, do more to support the court financially, logistically, and politically.
There are other avenues for justice, too. Recent developments in Europe, like the convictionof Syrian officials for crimes against humanity in Germany, show that some accountability can be achieved when states put in place the legal and institutional frameworks, including universal jurisdiction, to prosecute crimes against humanity and war crimes irrespective of where, by whom, and against whom they are committed.
Changing course
Some may argue that the pursuit of justice should not be allowed to derail practical politics, especially when it comes to holding post-conflict elections. There's no doubt that aligning different—often competing—political factions across Libya is a necessary and highly challenging element to achieve any successful transition to peace.
However, when those who are responsible for violence and crimes are candidates to lead the country to a better future, there's no hope for victims or the Libyan people.
Candidates in the presidential polls—scheduled by the UN-led peace process for December, and since postponed—included people accused of war crimes and human rights violations.
We believe rights and accountability cannot be sacrificed in the name of international engagement or reaching a political deal. This is not only because accountability is a moral and legal imperative, but because it is vital to break the cycle of impunity that has devastated Libya for so long.
Eleven years of political expediency, including the latest focus on setting a date for elections instead of a clear process, have achieved neither justice nor peace.
While the primary responsibility to build lasting peace lies within Libya, if the international community wants to help, it must move away from narrow self-interests and focus on the real needs and aspirations of the Libyan people. This includes recognizing that human rights and accountability go hand in hand with establishing security and stability in Libya.
———
Elham Saudi and Cristina Orsini are, respecively, director and senior programs officer of Lawyers for Justice in Libya
This story first appeared Feb. 17 in The New Humanitarian.
Image: LFJL
Lawyers for Justice in Libya released a new report Feb. 17, in collaboration with Saferworld, exploring how international actors have exacerbated the human cost of Libya's conflicts, and why the international community must urgently refocus on human rights, justice, and accountability.
From our Daily Report:
Libya's two prime ministers
CounterVortex, Feb. 18, 2022
Libya: unrest as elections postponed
CounterVortex, Dec. 26, 2021
Audio:
Podcast: R2P in the 21st Century
CounterVortex, Dec. 11, 2021
See also:
I FOUGHT IN LIBYA
Please Don't Call Us Terrorists
by Belal Younis, Middle East Eye
CounterVortex, January 2022
—————————-
Reprinted by CounterVortex, Feb. 22, 2022