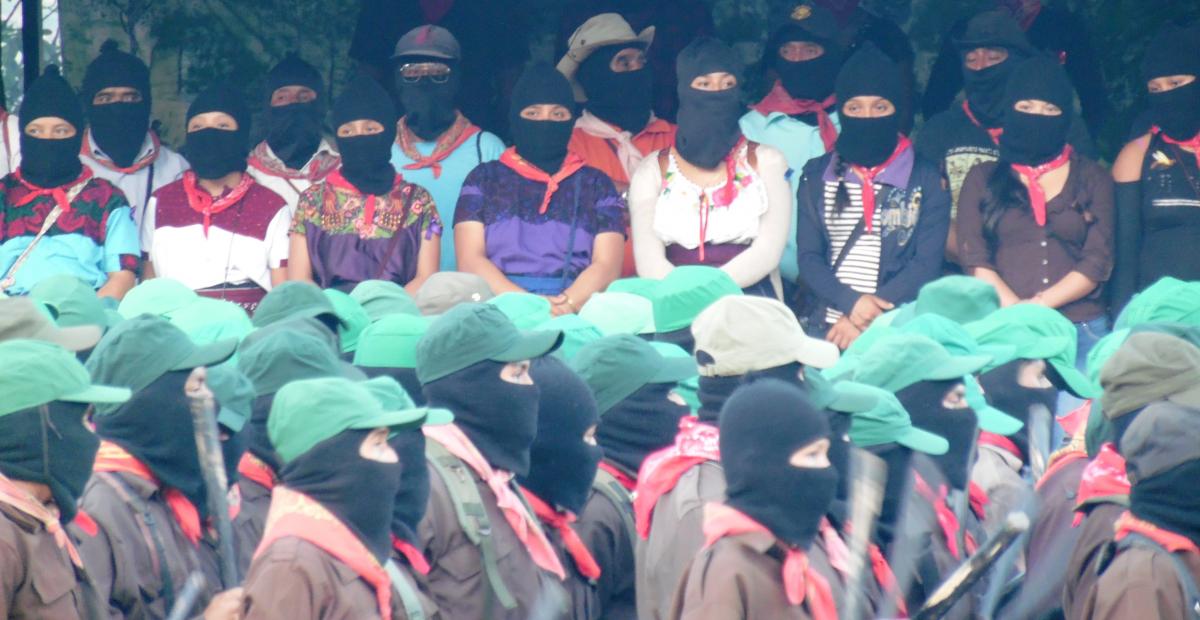 Speaking at a ceremony marking the 25th anniversary of their New Year's Day 1994 uprising in Mexico's southern state of Chiapas, leaders of the Zapatista rebels pledged their opposition to Mexico's new left-populist president, Andrés Manuel López Obrador. Anger was particularly directed at the planned "Maya Train" project, which would link the tourist resort of Cancún on the Caribbean coast with the Palenque archeological site in Chiapas, spearheading a new thrust of tourism mega-development. At the New Year's Eve ceremony, held at the rebel-controlled settlement of La Realidad and dubbed the "Meeting of the Networks of Resistance and Rebellion," thousands of supporters from across Mexico gathered to watch Zapatista troops march in formation—although wielding symbolic bastónes (staffs) rather than rifles.
"We are going to fight. We are going to confront [them]; we are not going to allow [López Obrador] to come through here with his destructive projects," said the Zapatistas' Subcommander Moisés. "We say to him that we don't believe him," Moisés added, calling the new president "dishonest" and "cunning."
A rebel communique issued for the occasion was entitled, "They Should Know that We Will Not Surrender, Sell Out or Give Up."
López Obrador, who was inaugurated a month earlier, responded that he has no dispute with the Zapatistas. "I express my respect for their plans, their programs, for their decisions," he told reporters in the capital. "We live in a free country; there is no repression… We are not going to confront any group. We want peace and reconciliation. We are open to dialogue and love and peace." (InfoBae, Milenio, Pozol. Pozol, Mexico News Daily, Digital Journal)
Pedro Faro Navarro, director of the Chiapas-based Frayba Human Rights Center, said that the Maya Train project is the proverbial "tip of the iceberg" for the Zapatistas and their allies because it represents "the dispossession of the indigenous peoples' lands." He warned that the project could translate into "confrontations between the government of the 'Fourth Transformation' and the native peoples of southern Mexico." (Mexico News Daily)
López Obrador, the first president since the Mexican Revolution to rise to prominence as a protest leader, has been touting an historic "Fourth Transformation" of Mexico, following independence from Spain, the Liberal reforms of the 1850s, and the 1910-17 revolution. (AP)
New violence was reported from Chiapas last month, as displaced persons camps were attacked in the conflicted municipality of Chalchihuitán, with several makeshift shelters destroyed, leaving some 1,000 residents of the camps displaced a second time. The Frayba Center said the aggressors were supporters of Chalchiuitán's new mayor, Hermelindo García Núñez, of the right-wing National Action Party (PAN). The conflict has its roots in a land dispute between Chalchiuitán and the neighboring municipality of Chenalhó. (FrayBa)
Photo: Pozol