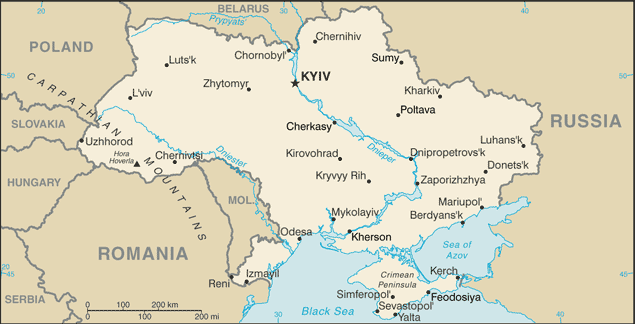 The US approved the sale of $47 million worth of anti-tank guided missiles (ATGMs) to Ukraine Dec. 22, with the State Department issuing an export license for 210 of the Javelin ATGMs and 35 command launcher units (CLUs) to fire them. Responses from Kiev and Moscow were predictable. "I am grateful for the leadership of President Donald Trump, clear position of all our American friends, and for strong bipartisan support of Ukraine," Ukrainian President Petro Poroshenko said on Facebook in English. Countered Russian Deputy Foreign Minister Sergei Ryabkov: "Today the United States is clearly pushing [Ukrainian authorities] towards new bloodshed. American weapons can lead to new victims in our neighbor." He added that Washington had "crossed a line." (Popular Mechanics, RFE/RL, TASS)
The National Interest website provides some background on why these particular weapons are strategic in the Ukraine conflict:
Ukraine first requested Javelins in the fall of 2014 to counter Russian tank units that had intervened in a separatist conflict in Eastern Ukraine, sending the Ukrainian Army into retreat. But while Washington has provided training, rations and $750 million in others forms of nonlethal military aid to Ukraine, Javelins had remained off the gift list for fear that the inevitable footage of missiles stamped "Made in U.S.A." blowing up tanks crewed by Russian military personnel (or "volunteers" in the Kremlin's parlance) would heighten tensions with the nuclear-armed state…

Setting aside the mounting contradictions in the current administration's topsy-turvy relationship with Moscow, the curious thing about the fairly small Javelin shipment is that the missiles could stir up a conflict that has remained largely static and involved little tank combat since 2015…

In the summer of 2014, Ukrainian forces were close to suppressing a Russian-separatist uprising in Eastern Ukraine when Russian mechanized units began pouring over the border. Between August 2014 and February 2015, these drove back Ukrainian forces and overran key government strong points including Ilovaisk, Luhansk, Donetsk and Debaltseve. The "volunteer" tank units included upgraded T-72B3 tanks and possibly T-90s, which outmatched Ukrainian T-64s.
The Hill notes comments from the media's openly pro-Moscow go-to guy Stephen Cohen (invariably refered to as an "expert" despite the fact that he is a proven liar), who speculated that Trump didn't want to approve further arms transfers to Ukraine, but capitulated to pressure in an attempt to shake the perception that he is a "Putin puppet."
"Look at what Trump is accused of every day, in all the newspapers, of being an agent of the Kremlin," Cohen said. "His nervous system is clearly cracking under these charges and he thinks this will get this monkey off his back."
In other words, everyone should shut up about the Russian electoral meddling and online trolling on behalf of Trump because it is jacking up superpower tensions. Of course, Russia's stealth invasion of Eastern Ukraine warrants no criticism in Cohen's world.
But Trump's motives here are an interesting question. Isn't this exactly the policy that Trump specifically had purged from the GOP platform last year? What happened? Is this more evidence that the apparent Trump-Putin breach is indeed real? Or is Cohen right that it's a propaganda move by Trump to get the "monkey off his back"?
The Washington Post notes some tactical equivocation here:
"The way it was not rolled out tells you something, that they are concerned about the perception of this. They are not trumpeting this as a major policy shift or signature policy priority," said Samuel Charap, senior political scientist at the Rand Corporation.

The administration's strategy of approving very limited arms sales is akin to a "Goldilocks" approach, he said, because it attempts to satisfy advocates while not sparking negative reaction by those who fear such a move could risk escalating the crisis.
Ukraine's UNIAN news agency meanwhile reports that Kiev's military budget this year will come to an unprecedented $3 billion. In some good news, the year ended with the largest exchange of prisoners between Kiev and the Donbass separatists since the outbreak of the war. Pro-Kiev forces handed 233 POWs to the separatists and received 73 from them in return. The exchange took place at the Line of Contact near the town of Gorlovka. (TASS) A hopeful sign, but there is certainly plenty of potential for re-escalation.
Map: CIA