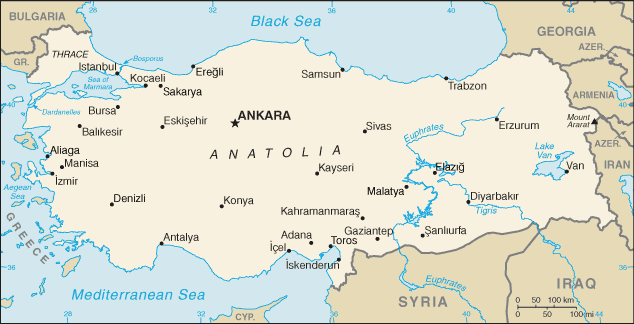 The elections that handed a victory to Turkey's incumbent President Recep Tayyip Erdogan June 24 were carried out under a state of emergency that has been in place since the attempted coup of 2016, with some 160,000 political opponents imprisoned—including party leaders. The hegemonic state media outlets such as TRT-TV overwhelmingly devoted their election coverage to Erdogan's campaign, while citizen access to social media and suspect websites was intermittently restricted by decree. The observation team from the Organization for Security and Cooperation in Europe (OSCE) said Erdogan had benefited from this excessive coverage, and raised questions about the transparency of the vote. It did not challenge the results, however. Erdogan has apparently avoided a run-off election. He will re-enter office with sweeping new powers following a narrowly-won constitutional referendum last year. Opposition leader Muharrem Ince of the Republican People's Party (CHP) conceded defeat, but warned that Turkey is headed toward "one-man rule."
Erdogan's People's Alliance, which includes his Justice and Development Party (AKP) and the hard-right Nationalist Movement Party (MHP), are set to win a 343-seat majority in the 600-seat parliament as well.
Selahattin Demirtaş, presidential candidate of the leftist and Kurdish-led Peoples' Democratic Party (HDP), actually campaigned from a prison cell, where he has been awaiting trial on transparently bogus "terrorism" charges since his arrest in November 2016. On June 21, he held an "e-rally," posting Twitter messages via his lawyers from Edirne Prison, in Turkey's European northwest (strategically far from the Kurdish heartland). "It is a first time in history that there is a rally from a prison cell," Demirta? tweeted via his intermediaries.
The election was also punctuated by violence. Four people were killed and eight wounded June 15 in the mainly Kurdish town of Suruc, in a clash that broke out as AKP MP Ibrahim Halil Yildiz was touring through the commercial district. State media said Kurdish HDP supporters attacked his entourage, and reported that his brother was among the dead. Opposition sources say Yildiz's bodyguards opened fire when he received a hostile reception. Erdogan's campaign condemned the "hideous attack" on Twitter. (CNN, DW, BBC News, Radio Australia, Europe Solidaire, Hurriyet Daily News, BBC News, The Economist)
See our last post on the crackdown in Turkey.
Map: CIA