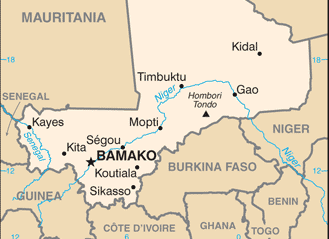 Malian armed forces and associated foreign soldiers are believed to have summarily executed an estimated 300 civilian men in a town they occupied in late March, Human Rights Watch says in a new report April 5, calling it "worst single atrocity reported in Mali's decade-long armed conflict." The men were detained at a marketplace in the central town of Moura, Mopti region, during a military operation that began March 27. Army troops and foreign soldiers—identified by several sources as Russians—are said by witnesses and survivors to have broken the detainees up into small groups and marched them to an area outside town before putting them to death.
One local trader interviewed by Human Rights Watch said he was drinking tea outside a house with his two brothers while waiting for the market to open when he heard shooting. "Seven Russians approached, gesturing for us to get up. There were no Malian soldiers with them. They searched us and the house, then took us east of the village, near the river, where we found another 100 men," he told HRW. "Another group of Russians pointed at my brothers and another man. I thought they were going for interrogation. They took them several meters away and executed them, point blank."
The large majority of those killed were traders from the pastoralist Peuhl, or Fulani, ethnic group. It is unclear if any had affliation with militant groups.
Mali's defense ministry said in an April 1 statement that from March 23 to 31, the army killed 203 "terrorists" and arrested 51 more. The statement said the army had acted on intelligence suggesting that armed Islamists were planning a "meeting with different Katibats [battalions]" in Moura.
The Malian regime is battling an insurgency by jihadist groups linked to ISIS and al-Qaeda with the help of private military contractors from Russia's Wagner Group.
"Abuses by armed Islamist groups is no justification at all for the military's deliberate slaughter of people in custody," said Corinne Dufka, Sahel director at Human Rights Watch. "The Malian government is responsible for this atrocity, the worst in Mali in a decade, whether carried about by Malian forces or associated foreign soldiers." (HRW, The Guardian)
Map: PCL