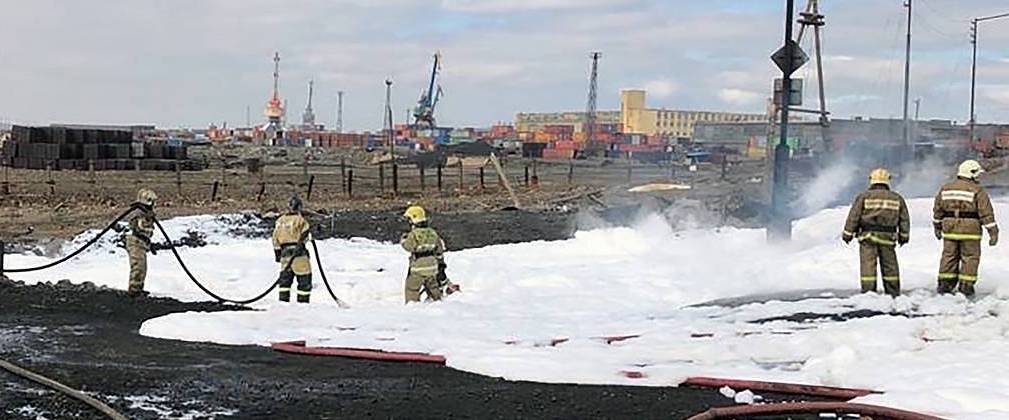 Russian President Vladimir Putin declared a state of emergency June 3 after 20,000 tons of diesel oil leaked into a river within the Arctic Circle. The spill went unreported for two days, which may have caused irreparable damage to the region. The spill was caused by the rupture of a fuel tank at a power plant on the Ambarnaya River near the Siberian city of Norilsk, Krasnoyarsk Krai. The plant is owned by Norilsk-Taymyr Energy Company, a subsidiary of Norilsk Nickel (Nornickel), which is the world's leading nickel and palladium producer. The company had reportedly spent two days trying to contain the spill, before alerting the government. The Russian Investigative Committee (SK) has launched a criminal case over the pollution and alleged negligence. The director of the power plant, Vyacheslav Starostin, has been taken into custody but has not yet been charged.
The collapse of the tank and subsequent leak is believed to have been caused by ground subsidence, sinking or settling of surface terrain, as a result of the abnormally warm weather and melting permafrost. The oil has already estimated to have contaminated an area of at least 350 square kilometers. The spill has caused large portions of the Ambarnaya River to turn a dark crimson.
The accident is already believed to be the second-largest in modern Russian history in terms of volume. The largest was in 1994, at Usinsk in the republic of Komi, just south of the Arctic Circle, when 100,000 tons spilled from an aging pipeline.
The Norilsk incident has prompted many warnings from leading environmental organizations, who believe that the scale of the spill and sprawling geography of the river will mean that it will be difficult to clean up. Oleg Mitvol, the former deputy head of Russia's environmental agency Rosprirodnadzor, stated that there has "never been such an accident in the Arctic zone." He also added that an effective clean-up could cost as much as 100 billion roubles ($1.5 billion) and take between five and 10 years.
This is not the first time Nornickel has been involved in an oil spill. In 2016 the company admitted that a chemical spill at another one of its plants was responsible for turning the Daldykan River blood-red after rains damaged a filtration dam at its Nadezhda metallurgical plant.
From Jurist, June 4. Used with permission.
With additional information from Barents Observer, AP, AP
Note: Siberia's permafrost is melting with terrifying rapidity as an obvious result of global warming, and methane releases from the thawing tundra have been named as a factor that could itself contribute to a "tipping point" that will accerlate warming still further in a feedback loop.
Photo: Russian Civil Defense via TASS