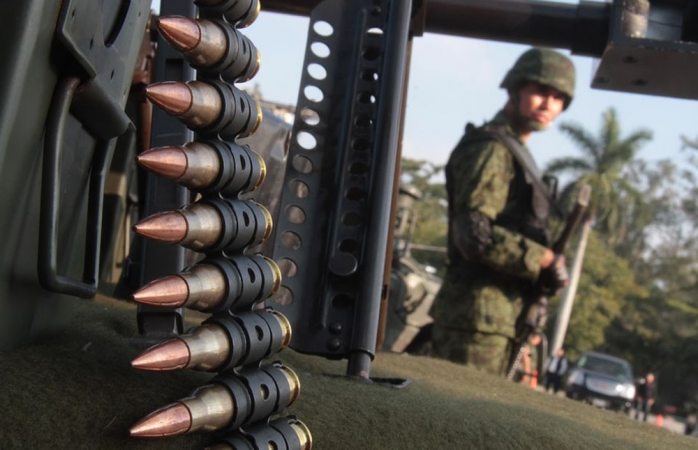 Several human rights organizations presented a report (PDF) June 11 to the Office of the Prosecutor of the International Criminal Court (ICC) concerning possible crimes against humanity committed from 2008-2010 by the Mexican Army in the context of its Chihuahua Joint Operation (OCCh). The report outlines the murders, torture, sexual violence and forced disappearances of more than 121 victims committed by the Mexican military in the state of Chihuahua that "have still not been investigated, prosecuted, or punished." The report asserts: "These crimes constitute crimes against humanity falling under the jurisdiction of [the ICC], because of their systematic nature and because they were carried out through regular patterns of action that confirm their organized nature."
Signatory organizations include the International Federation for Human Rights (FIDH), the Mexican Commission for the Defense and Promotion of Human Rights, the Paso del Norte Human Rights Center, and the "All Rights for All" National Network of Civil Human Rights Organizations.
According to an FIDH press release:
Members of the armed forces who took part in the security policy to fight criminal organisations… with the knowledge of the highest civil and military commands, committed crimes against humanity in the form of murders, torture, grave deprivation of physical liberty, rape, sexual violence, and forced disappearances. The documented cases reveal the existence of a clear organised policy by the authorities against the civilian population. Similarly, the cases demonstrate the use of public resources to commit the crimes, such as, for example, military vehicles to arbitrarily detain citizens, the use of military facilities as premises for torturing the civilian population, and the participation of military medical personnel in these torture practices.
The signatories call upon the ICC to conduct an analysis of the information released in the report, and undertake a visit to examine "the investigation, prosecution, and punishment by the Mexican criminal system of military personnel and high-ranking individuals responsible" for the crimes committed during the OCCh.
From Jurist, June 11. Used with permission.
Note: Mexican human rights activists in 2011 filed a complaint with the International Criminal Court calling for an investigation into possible crimes against humanity by the security forces under President Felipe Calderón's campaign against the drug cartels.
Photo: La Opción de Chihuahua