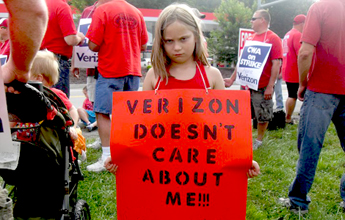 In Episode 55 of the CounterVortex podcast, Bill Weinberg exposes the hidden agenda behind Verizon's abandonment of landline service. Far from being driven by public demand, the ubiquity of wireless has been instrumented by Verizon and imposed on the populace as a design to finally extinguish the public entitlement of telephone service. Verizon is the most recent inheritor of this public trust responsibility that goes back to the establishment of the New York Telephone Company as a state utility in 1896. But the trust responsibilities go with the old copper wires—once they are gone, Verizon no longer has legal obligations as a "carrier of last resort." Weinberg calls for a public expropriation of Verizon, and making internet access as well as phone service a public entitlement. Those who are refusing to give up their landlines are, consciously or not, on the frontline of resistance to corporate rule—and the attendant digitization of all reality. Listen on SoundCloud or via Patreon.
See Weinberg's written exposé, "New Yorkers Stand Up to Wireless Tyranny," in The Village Sun. See also Weinberg's reportage in The Tenant on the potential risks from drilling through walls for cable installation—which is why Spectrum cable service is not a vialble option in aging Lower Manhattan tenements.
Production by Steph Rywalt
We ask listeners to donate just $1 per episode via Patreon. A total of $30 per episode would cover our costs for engineering and producing. We are currently up to $25.
Photo: IBEW