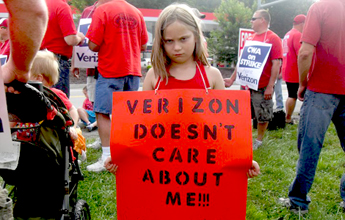 In Episode 22 of the CounterVortex podcast, Bill Weinberg rants in anguish about how he has been deprived of phone and Internet access by Verizon's cynical design to let its copper network deteriorate and impose the transition to cellular, fiber and wireless on consumers against their will. There is no reason to believe this outage will be temporary. The illusions of freedom of choice and communications convenience has left the CounterVortex editor and main ranter with no choice and no ability to communicate—or to produce the journalism he needs to daily produce to make a living. Weinberg contends that his right to work—guaranteed by Article 23 of the Universal Declaration of Human Rights—is being violated with impunity. Verizon is in violation of international law, as well as New York state law. Weinberg calls upon the New York Public Service Commission to enforce the law on Verizon. He also calls upon the New York Public Utility Law Project to reach out to metro-area consumers similarly left without land-line service, and organize a class-action lawsuit against Verizon. Much more ambitiously, he calls for a public expropriation of Verizon, and the redirection of its technology, infrastructure and capital toward serving the social good rather than private profit. Listen on SoundCloud, and support our podcast via Patreon.
Music: none for this episode (that's part of the point)
Production by Chris Rywalt
We ask listeners to donate just $1 per episode via Patreon. A total of $30 per episode would cover our costs for engineering and producing. We are currently up to $14.
New episodes are produced every two weeks.
Photo: IBEW