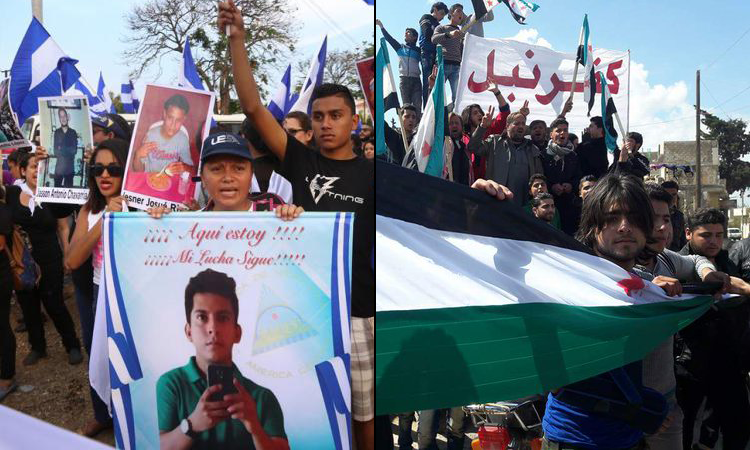 In Episode 11 of the CounterVortex podcast, Bill Weinberg compares the legacies of revolutionary struggle in Nicaragua and Syria. The Somoza and Assad regimes were both hereditary family dictatorships. The Sandinistas and Syrian revolutionaries alike have roots in anarchism. Yet Sandinista leader Daniel Ortega, again Nicaragua's president, is today himself facing a militant opposition movement, and has betrayed the Syrian revolutionaries in the interests of playing for Russian support in the Great Power game. His regime has employed state terror against peasant communities and campesino opponents of his inter-oceanic canal mega-scheme. In Syria, meanwhile, the secular, pro-democratic civil resistance continues to exist in spite of everything, and still governs areas of the country under a model of council-based popular democracy. This civil resistance has even liberated territory from jihadist factions through nonviolent mass uprisings, just as they had previously liberated their towns from the Assad dictatorship. The Kurdish autonomous zone in Syria is also informed by an anarchist ethic of direct democracy. Yet the Kurds and Arab-led civil resistance have been pitted against each other by Great Power intrigues. How can activists in New York and the United States move past global divide-and-rule stratagems and build solidarity with Syria's Arab and Kurdish opposition alike, as well as the campesinos and grassroots-democratic forces in Nicaragua? Listen on SoundCloud, and support our podcast via Patreon.
Music: Hope by Moh Alileche
Production by Chris Rywalt
We are asking listeners to donate just $1 per episode via Patreon. A total of $30 per episode would cover our costs for engineering and producing. We are currently up to $15.
New episodes will be produced every two weeks.
Photo composition: Today Nicaragua, Waging Nonviolence