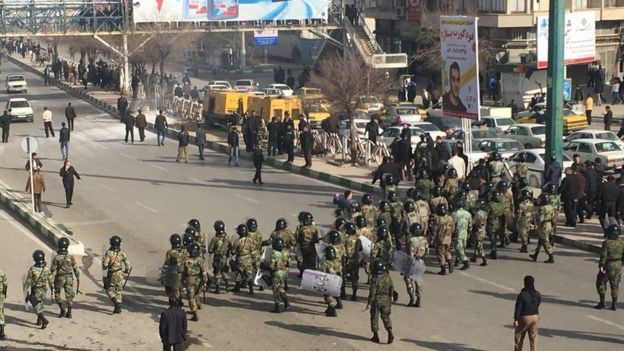 A wave of protests across Iranian cities began as a response to inflation and economic pain, but shows signs of escalating to a popular repudiation of clerical rule. Spontaneous protests first broke out Dec. 28 in the northeast city of Mashhad, where security forces responded with tear-gas and water cannons. Since then, protests have been reported from Kermanshah and Hamadan in the west, Rasht and Sari in the north, Ahvaz in the southwest, and Qom and Isfahan in central Iran. Arrests are also reported from the capital, Tehran, where a group of demonstrators attempted to occupy a public square. Protests began with the slogan "Death to high prices!" But as repression mounted, demonstrators began chanting "Death to the dictator," in apparent reference to President Hassan Rouhani and the ruling mullahs.
Other popular slogans include "Freedom or death," "Don't be afraid, we are all together," and "Political prisoners must go free." In a sentiment that has been heard before in protests in Iran, demonstrators took aim at the massive Iranian military presence in Syria, chanting, "Leave Syria, think about us!" (Iran News Update, Dec. 30; BBC News, Dec. 29; Iran Focus, Center for Human Rights in Iran, Dec. 28)
Official media have reacted predictably, with Fars News Agency calling the protesters "anti-revolutionaries," and accusing them of destroying public property. Tasnim, a news service affiliated with the Islamic Revolutionary Guards Corp, seemed to blame Rouhani, claiming the protests were directed at him for failing to help thousands who lost their life savings as a result of private banks and investment houses going bankrupt.
Iran's inflation rate was recorded at 9.9% in December 2017, according to the International Monetary Fund (IMF). It was as high as 35% during President Hassan Rouhani's first year in office in 2013. With around 60% of Iran's population under the age of 30, youth unemployment was recorded at an agonizing 40% in 2017.
The demonstrations coincide with the anniversary of the bloodiest days of the Green Movement on December 2009, known as the "Ashura Protests." (Center for Human Rights in Iran, Dec. 29)
The Green Movement, which was followed by a Nowruz crackdown in March 2010, also had its origins in austerity measures imposed in reaction to the slump in oil prices. Global oil prices of course remain depressed today, despite a recent uptick in response to escalated Middle East tensions. See our last post on the civil opposition in Iran.