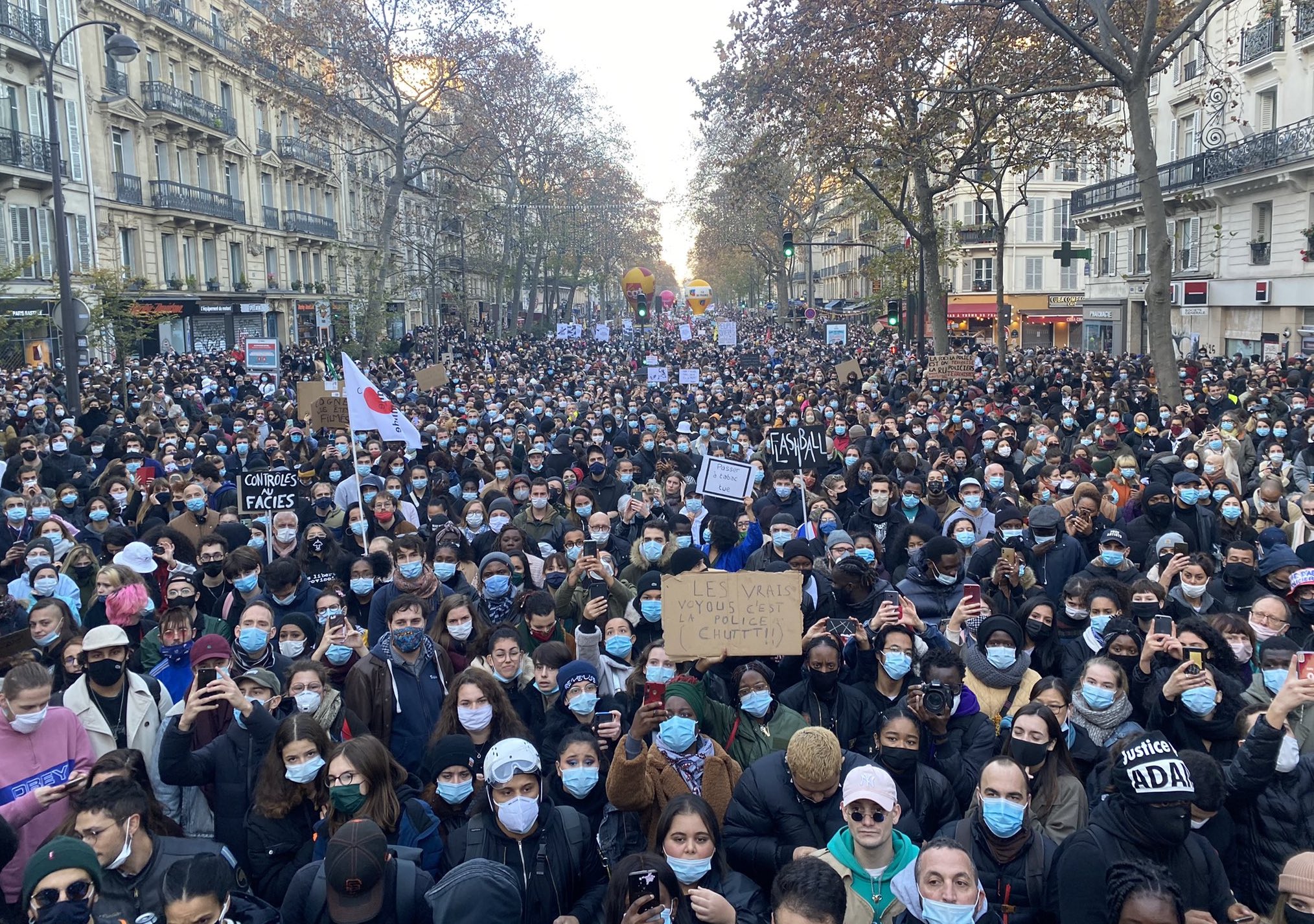 Police and demonstrators clashed in Paris Nov. 28 as some 45,000 filled the streets to protest a new security law, with large mobilizations also seen in Bordeaux, Lille, Montpellier and Nantes. The new law would severely restrict publishing of the images of police officers. The issue was given greater urgency by video footage of Paris police savagely beating local Black music producer Michel Zecler days earlier. President Emmanuel Macron said the images "shame us," but critics point out that their release could have been barred if his new security law had already been in force. Four officers have been suspended over the incident, but there have been no arrests. (Al Jazeera, NYT, EuroNews)
The French National Assembly passed the bill Nov. 24, despite protests it sparked throughout the country. It now awaits approval by the Senate. The so-called Global Security Bill was introduced by Macron's party, La Republique en Marche. The controversy centers mostly around Article 24, which makes "malicious publication of images of police" a crime punishable with one year imprisonment and a 45,000 euro fine. This is defined as publication of images that allow identification of a police officer with "intent to cause physical or mental harm.
After days of intense debate and an amendment to Article 24 clarifying that the law should not intended to hinder freedom of press, the bill received 388 votes in favor and only 104 votes against.
"The aim [of Article 24] is not to prevent anyone from filming or broadcasting images that shed a light on a fact or a public event. The aim is to protect law enforcement against publications which are harmful to their integrity," tweeted Prime Minister Jean Castex.
Opponents, however, maintain that the bill effectively undermines press freedom and recent efforts to quell police brutality. "If people cannot film anything in the streets when the police may sometimes have illegal use of force, it's a very worrying message to send," said Amnesty International France president Cecile Coudriou to CNN.
Opponents also point out the bill's double standard; police officers will be allowed to film ordinary citizens without their consent via body-cams and drones. (Jurist)
On the Nov. 23, the day before the bill passed in the National Assembly, police used tear-gas and dispersal grenades to clear a camp set up in the Place de la République by mostly Afghan migrants and refugees, to protest a lack of housing. (NYT)
Tensions were heightened by the October beheading of a schoolteacher in a Parisian suburb who was apparently targeted for showing cartoons of the Prophet Muhammed to his students. His killer, an 18-year-old Chechen refugee, was later shot dead by police. The incident was followed by a stabbing attack that killed three at a church in Nice, which Macron called an "Islamist terrorist attack." (BBC News)
All this followed Macron's controversial Oct. 2 speech in Les Mureaux as the trial opened in the town of those accused of perpetrating the Charlie Hebdo murders in January 2015. In the address, Macron promised new legislation to crack down on "Islamic separatism." (Outlook India, Reuters)
Photo: @T_Bouhafs