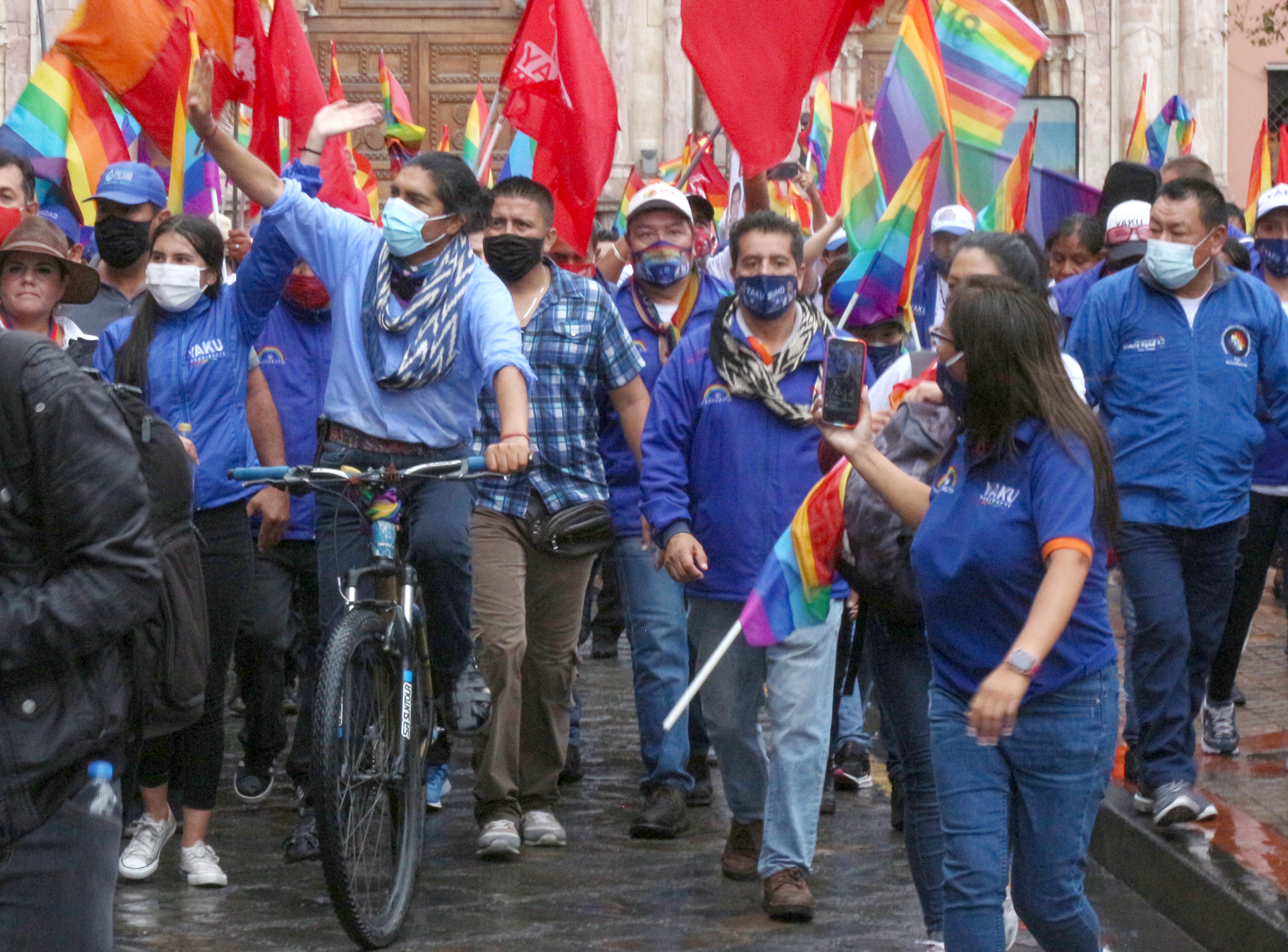 Hundreds of indigenous protesters rallied outside the offices of Ecuador's National Electoral Council (CNE) in Quito Feb. 23 to demand a recount of the presidential vote. Third-place finisher Yaku Pérez of the indigenous-based Pachakutic party, eliminated from the run-off election to be held in April, led a week-long cross-country march of his supporters from Loja province in the south which repeatedly blocked traffic on the Pan-American Highway before arriving in the capital for the rally. He then led a delegation to the CNE office, carrying boxes with more than 16,000 statements purporting to show irregularities. At the demonstration, his supporters chanted, "Transparency yes, fraud no!"
Official results of the Feb. 7 poll showed left-populist Andres Arauz, former head of the Central Bank under then-President Rafael Correa, with nearly 33% of the vote, followed by right-wing candidate Guillermo Lasso, also a former banker, with 19.74%—enough to narrowly edge out Pérez, who got 19.39%. Pérez is demanding a recount in 17 of Ecuador's 24 provinces, involving some 6 million ballots—about 45% of the country's registered voters.
When the CNE failed to act on the complaints, Pérez supporters again erected flaming barricades to block traffic on the Pan-American through Loja province on March 1. (El Comercio, Quito, March 1; Al Jazeera, El Comercio, Feb. 23; PRI, Feb. 22; El Universo, Guayaquil, Feb. 17)
Deadly prison uprisings
As the rally was underway in Quito, Latin America's deepening prison crisis came to Ecuador in no uncertain terms, as simultaneous riots at four facilities left 79 people dead. Government Minister Patricio Pazmino stepped down in the wake of the uprisings, which hit prisons in the cities of Guayaquil, Cuenca and Latacunga. The fighting between rival gangs was seemingly set off by the Dec. 28 assassination in Manta of Jorge Luis Zambrano AKA "Rasquiña," leader of a prominent criminal network known as Los Choneros. The port city of Manta has become an important hub for cocaine trafficking to Central America.
In 2019, President Lenín Moreno declared a state of emergency in Ecuador's prison system after at least 24 were killed in a wave of incidents. The system, designed for some 27,000 inmates, still houses about 38,000, despite a reduction in response to the COVID-19 pandemic. (Al Jazeera, March 6; InSIght Crime, Feb. 27; Al Jazeera, NYT, Feb. 23)
Photo of Yaku Pérez, on bicycle, via Wikipedia