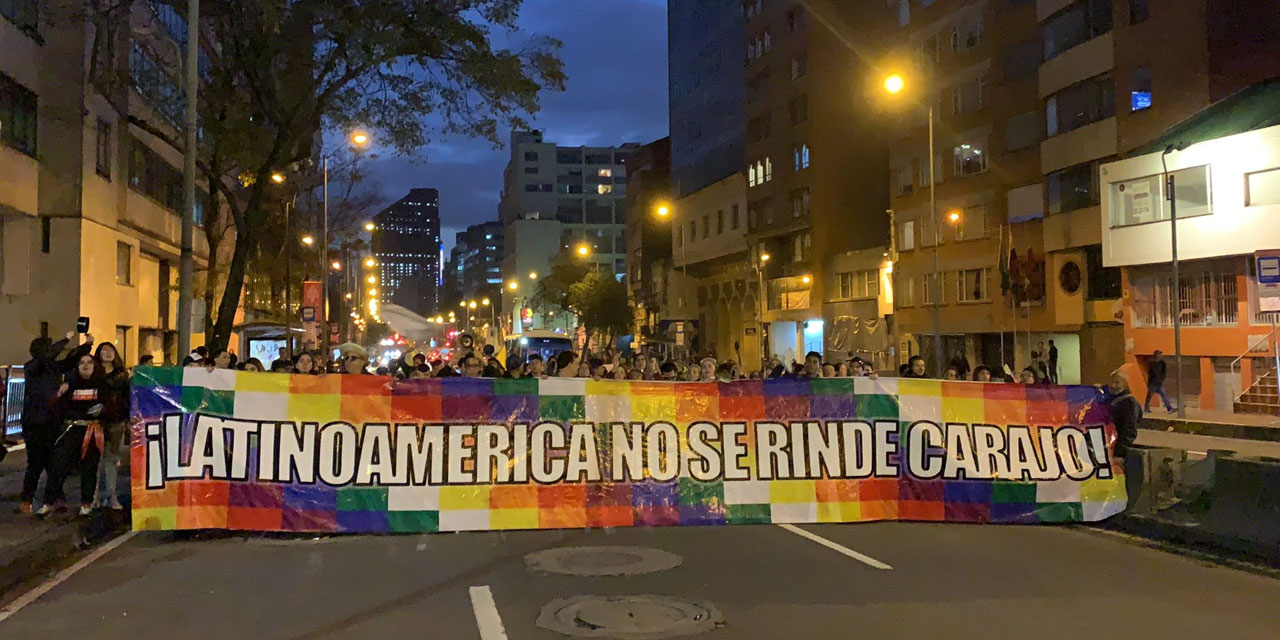 Colombia's President Ivan Duque on Nov. 24 convened his National Labor Concord Commission (Comisión Nacional de Concertación Laboral) to begin the "National Conversation" he pledged four days earlier in a bid to quell a fast-mounting anti-government protest wave. Social leaders, mayors and departmental governors from across the country are to participate in the talks. The protests escalated Nov. 21 when trade unions, including the giant Unitary Workers Central (CUT), called a nationwide general strike, and repressive measures by the National Police only fueled the mass mobilization.
Nov. 21, the first day of the strike, saw peaceful protesters filling downtown Bogotá. But the day ended with violence as groups of masked men among the demonstrators began smashing the windows of government buildings and defacing the statue of Simón Bolívar in the city's central square. The feared National Police riot squad ESMAD responded with force, and running street battles ensued. The masked agitators (encapuchados) also attacked transit stations, leading to a a near-total shut-down of the system. There has been widespread speculation that the encapuchados were actually paid provocateurs.
A curfew was imposed that night in Bogotá, as well as in Cali where similar scenes were reported. ESMAD also clashed with student protesters in Medellín, leaving several injured. Amid the repression, Duque announced that he had agreed to the dialogue.
But protesters continued to mobilize in Bogotá in spite of the curfew. On Nov. 23, when a young demonstrator named Dilan Cruz was struck in the head by a tear-gas canister, leaving him in critical condition, thousands filled downtown Bogotá in outrage. Peaceful demonstrators occupied the capital's central square. They also gathered outside Duque's residence and kept him awake all night with a massive cacerolazo—beating pots and pans.
The strike was called to oppose the so-called Paquetazo de Duque—the president's proposed package of neoliberal and austerity measures, including cuts to worker benefits, lowering of the minimum wage, and privatization of retirement programs. (Colombia Reports, La FM, Caracol Radio, The City Paper, Bogotá, Nov. 24; RCN Radio, Nov. 23; Colombia Reports, Notas, Nov. 22;  Colombia Reports, Colombia Reports, Colombia Reports, Colombia Reports, The City Paper, Nov. 21;  Desinformemonos, Nov. 16)
Photo: Hollman Morris via Colombia Reports