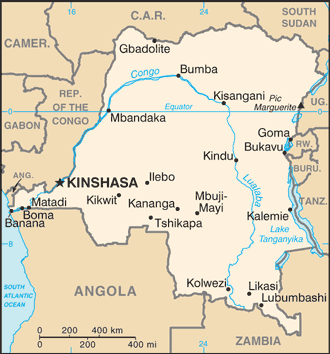 The Democratic Republic of Congo (DRC) government recruited former M23 rebel fighters to protect President Joseph Kabila after protests broke out last December over his refusal to step down at the end of his constitutionally mandated two terms, Human Rights Watch (HRW) reported Dec. 5. During December of last year, at least 62 people were killed and hundreds were arrested. The M23 fighters were granted authority to use lethal force. Many journalists were also detained to keep them from reporting about the events taking place. According to the report, rebel forces have long been recruited into the Armed Forces of the Democratic Republic of Congo (FARDC), without formal training or extensive vetting. The forces in question were deserters from the group, who were initially recruited from Rwanda and Uganda. The FARDC have themselves been criticized for various human rights violations.
The M23 took up arms against the DRC government in 2012 and was defeated in 2013. In 2016, Kabila began actively recruiting former M23 fighters following his refusal to step down, amid fears of distrust amongst his forces, according to the report.
After the December protests, Kabila agreed to a Catholic Church-mediated power-sharing agreement with the opposition, pledging that presidential elections would be held by the end of 2017, and that Kabila himself would not run. However, elections were not held, and in October, the DRC's electoral commission published a calendar with the elections set for the end of 2018. The opposition calls this is another delaying tactic to keep Kabila in power. The delay prompted further violent protests. October also saw the arrest of 30 opposition party members. The opposition continues to call for Kabila to step down by the end of this year.
From Jurist, Dec. 5. Used with permission.