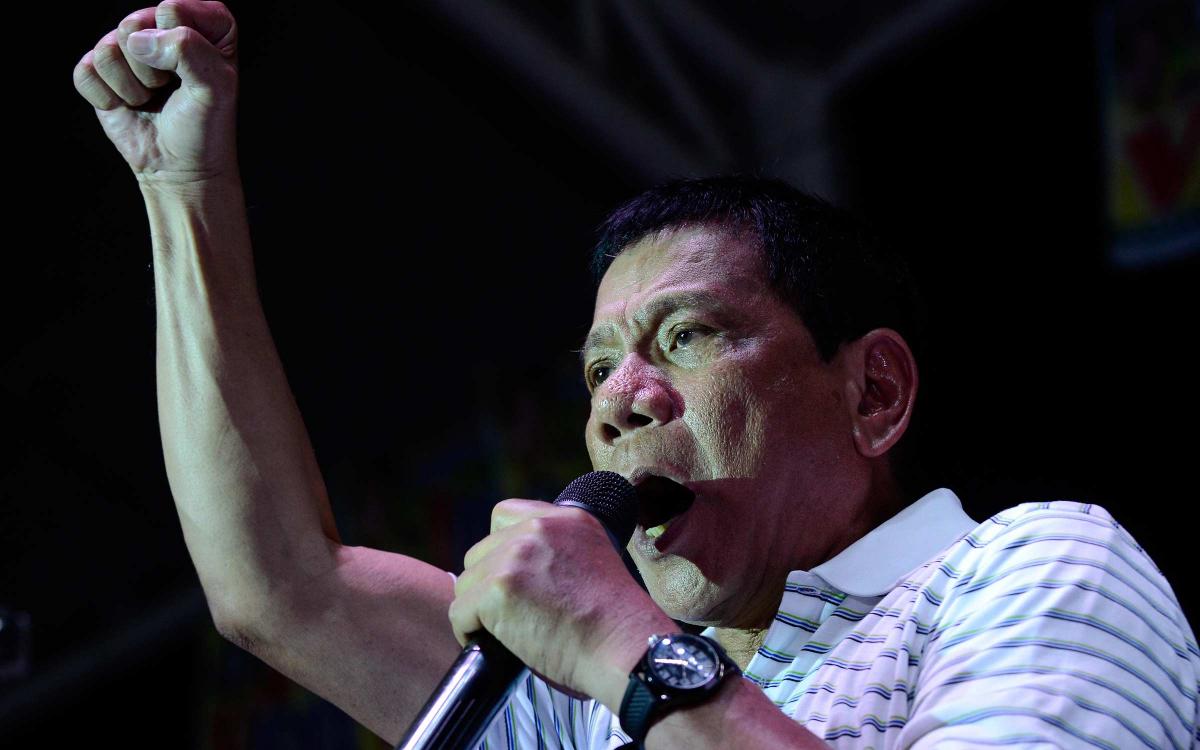 Just a few weeks after the Philippines' President Rodrigo Duterte won rare favorable headlines by pledging to pull the National Police out of his ultra-deadly "war on drugs," he is already backpeddaling and threatening to send them back in—as cynics had predicted. Duterte made his threat Nov. 18 in a speech at a business event in his hometown Davao City (where he first honed his death-squad tactics when he served there as mayor). "The drug problem, if it becomes worse again, the police has to enter the picture," he said in his typically crude syntax. "I want it eradicated if possible."
After public outrage over the slaying of an unarmed youth by his police, Duterte in mid-October turned exclusive responsibility for narcotics enforcement over to the Philippine Drug Enforcement Agency (PDEA). But PDEA chief Aaron Aquino (himself a veteran National Police commander) conveniently warned that without the police force backing him up, the drug war pressure could slacken.
Trump green-lights Duterte's mass murder
In an apparent play to anti-US populism in the wake of Donald Trump's Nov. 12 visit to the country for the Manila summit of the Association of Southeast Asian Nations (ASEAN), Duterte made a show of voicing defiance in his Davao City address. "If human rights [advocates] are thinking that Trump or whoever the human rights [advocates believe] can stop me, I'm sorry," he said.
This s pretty hilarious, given that Trump (in contrast to Obama) has pretty much given Duterte a free ride on his atrocious human rights record. Trump boasted after the Manila meeting that he had a "great relationship" with Duterte (who is now accused of overseeing some 8,000 extrajudicial executions). He said US relations with the Philippines "are probably better than ever before."
Trump spokesman Harry Roque told reporters after the Manila meet: "The issue of human rights did not arise—it was not brought up. It was President Duterte who discussed with US President Trump the drug menace in the Philippines. And the US president appeared sympathetic and did not have any official position on the matter." White House press secretary Sarah Sanders offered: "The conversation focused on ISIS, illegal drugs, and trade. Human rights briefly came up in the context of the Philippines' fight against illegal drugs."
Trump even boasted about how much closer the US is to the Philippines now than under Obama, when relations between Washington and Manila were "horrible." He added his own apparently imaginary anecdote about Obama being denied landing rights when he flew to Manila to meet with Duterte: "You know what happened. Many of you were there, and you never got to land. The plane came close but it didn't land."
The FactCheck website said of this allegation: "We have no idea what Trump was referring to, and the White House press office offered no on-the-record clarification."
American late-night talk show host Jimmy Kimmel took note of the effigy of Trump that was set on fire by protesters during the ASEAN summit, quipping that the US president received an "exceptionally warm welcome" from Filipinos.
Duterte admin before high court
Duterte's administration is currently defending his drug war before the Philippines Supreme Court. His Solicitor General Jose Calida on Nov. 17 insisted on the constitutionality of the blood-drenched campaign. With outrageous chutzpah, Calida argued that the consolidated legal petitions against the crackdown failed to prove that the National Police or PDEA had committed any illegal acts.
Amnesty International meanwhile issued a report accusing both sides in a "trail of death and destruction" during Duterte's five-month military campaign to take back the southern town of Marawi, which had been seized by Islamist militants. The Philippine armed forces, Amnesty found, "detained and ill-treated fleeing civilians, and also engaged in looting. Their extensive bombing of militant-held areas of Marawi city wiped out entire neighborhoods and killed civilians, highlighting the need for an investigation into its compliance with international humanitarian law."
Cross-post to High Times and Global Ganja Report