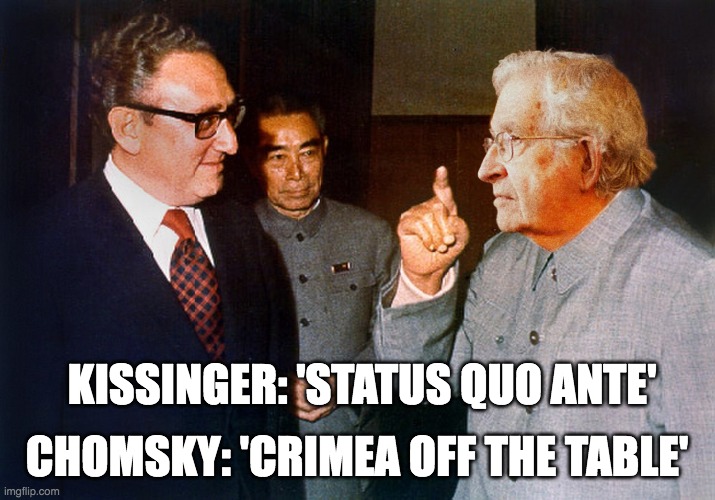 In Episode 125 of the CounterVortex podcast, Bill Weinberg continues his deconstruction of the increasingly sinister, aggression-abetting politics of Noam Chomsky. In his recent interview with Current Affairs, Chomsky echoes Henry Kissinger's lecturing to the Ukrainians that they must capitulate to Russian aggression in the interests of global stability—a directive promptly repudiated by Ukrainian President Volodymyr Zelensky. Chomsky has long been peddling historical revisionism on Ukraine, but his current convergence with Kissinger is a case study in imperial narcissism—an internalization of the imperialist perspective he has ostensibly dedicated his life to opposing. Fortunately, there is growing dissent on the left to Chomsky's paradoxical Kissingerian line, including from Ukrainian-American scholars—and from Chomsky's own Ukrainian translator, Artem Chapeye.
Listen on SoundCloud or via Patreon.
Essay discussed: Politics and the English Language by George Orwell, 1945
Production by Chris Rywalt
We ask listeners to donate just $1 per weekly podcast via Patreon—or $2 for our new special offer! We now have 41 subscribers. If you appreciate our work, please become Number 42!
Altered photo from Kissinger's 1973 meeting with Mao Zedong. Fair use rights asserted.