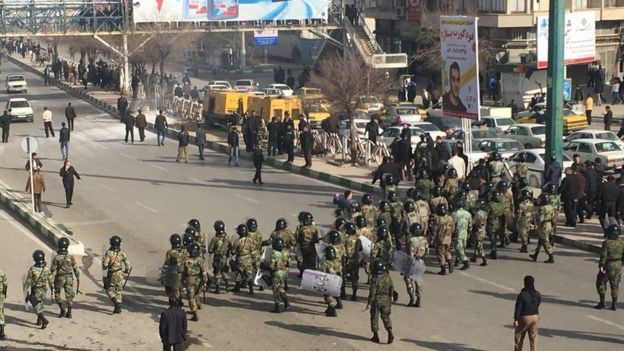 In a perfectly predictable response, Iran's Supreme Leader Ayatollah Ali Khamenei accused the US of fomenting the latest irruption in the wave of popular protests that has swept the country since the start of the year. While failing to explicitly name Saudi Arabia, he accused other regional powers of joining with the US to fuel dissension in Iran to "separate the nation from the system." He said: "If the US was able to overpower the Islamic system, it would not have needed to form a coalition with notorious countries of the region to create chaos, unrest and insecurity in Iran." Last week, online videos showed police firing tear-gas at protesters angered over economic austerity. Vendors in Tehran's Grand Bazaar, a traditional area of support for Iran's leadership, went on strike over the collapse of the rial on foreign exchange markets. (The New Arab) Despite not having a union, Iran's truck drivers also staged a nationwide strike for almost two weeks in late May and early June. (Al-Monitor)
There is clear potential for economic grievances to join with opposition to clerical rule. In February, police in Tehran arrested some 30 women for joining protests against the law that makes wearing the hijab compulsory. Women across the country began protesting by climbing onto phone booths and other public structures, taking off their headscarves and waving them aloft on sticks. (The Guardian)
Just as predictable as Khamenei's scapegoating of the US for the protests is US Secretary of State Mike Pompeo's transparently bogus statement of support for the Iranian protesters. "The people of Iran are tired of the corruption, injustice, and incompetence from their leaders. The world hears their voice," Pompeo said. (The New Arab)
Somewhat more surreal was the spectacle of Donald Trump's personal lawyer, Rudolph Giuliani, addressing a Paris rally staged by the National Council of Resistance of Iran (NCRI), political wing of the cultish armed opposition group Mujahedin Khalq—once listed as a terrorist organization by both the US and European Union. Giuliani of course had to invoke the dreaded "regime change" phrase. "We are now realistically being able to see an end to the regime in Iran," he told the crowd of some 4,000. "The mullahs must go, the ayatollah must go, and they must be replaced by a democratic government, which Madam Rajavi represents." This was a reference to the NCRI's leader Maryam Rajavi. (The Guardian)
As we've pointed out before during the Iran protest wave, this kind of US "support" arguably hurts more than it helps, allowing the Iranian state to more easily portray protesters as pawns, dupes or agents of the West.
Rounding out the irony nicely, Iran's state media outlet Press TV ran a report virtually gloating at the street clashes in Buenos Aires during the 24-hour general strike that shut down Argentina on June 25 over similar economic grievances. This, of course, after dutifully regurgitating Khamenei's portrayal of the internal unrest in Iran as US-fomented.
Meanwhile, we can be sure that the Trump administration had no words of encouragement for the Argentine protesters.
Yet another textbook study in the global divide-and-conquer scam which is the essence of the state system.