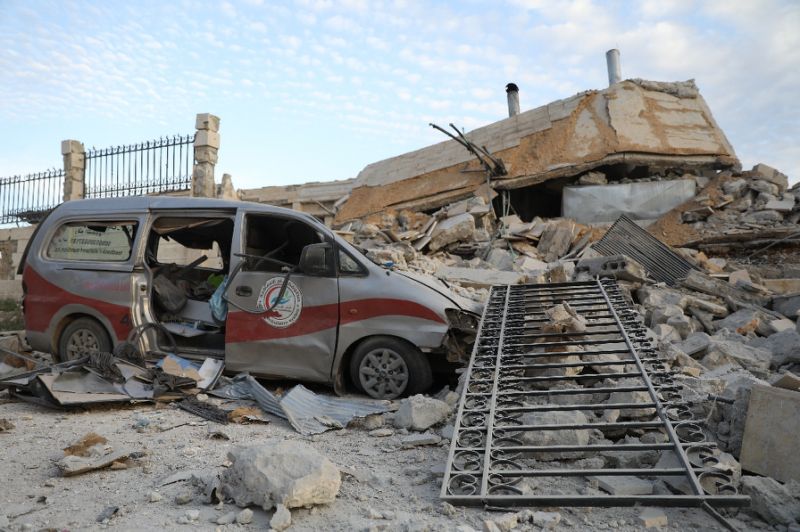 The Bashar Assad regime, supported by Russia, is carrying out a "deliberate and systematic assault" on hospitals and other medical facilities in Syria's northwestern provinces of Idlib and Hama, Amnesty International said May 17. With the UN Security Council set to discuss northwest Syria, Amnesty urged action, calling for Russia to be pressured over the deliberate targeting of 15 hospitals in Idlib and Hama over the past three weeks. "Bombing hospitals carrying out their medical functions is a war crime. These latest attacks have eliminated vital lifelines for civilians in desperate need of medical care. This is part of a well-established pattern targeting medical facilities to systematically attack the civilian population and it constitutes crimes against humanity," said Lynn Maalouf, Amnesty's Middle East director.
"The international community has so far utterly failed to protect civilians in Syria from the horrors of this conflict. We are urging Security Council members meeting today to do everything in their power to end the onslaught against civilians in Idlib and hold the perpetrators of these appalling crimes to account."
Staff from four hospitals in Idlib and Hama told Amnesty International that they had been targeted despite sharing their coordinates with the Syrian and Russian governments. According to the UN and Syrian medical organizations, at least 15 hospitals have been reported to be damaged or destroyed in Idlib and Hama since the beginning of May. The escalation in attacks has also led to the displacement of 180,000 people. At least 16 humanitarian organizations have suspended some operations in Idlib due to the attacks, exacerbating an already dire situation where at least 1.5 million people need urgent humanitarian assistance.
Photo: EA Worldview