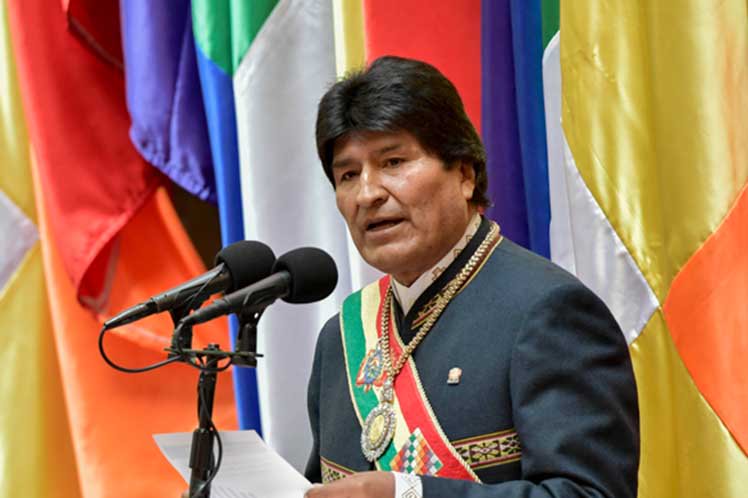 Bolivian President Evo Morales launched his campaign for a fourth term with a massive rally May 18 in the Chapare region where he began his career as a peasant leader a generation ago. But the country's political opposition charges that Morales is defying a 2016 referendum, in which voters rejected a fourth consecutive term. The referendum results were later overturned by the Plurinational Constitutional Court—sparking a wave of protest. (Al Jazeera, Reuters, May 18) The campaign begins amid controversy surrounding accusations that opposition lawmakers have sent a letter to US President Donald Trump jointly calling for his "intervention" against Morales' re-election.
Presidency Minister Juan Ramón Quintana last month charged that 12 opposition legislators had sent the letter to Trump, calling for his "intervention" before the Organization of American States on their behalf. Named as key signatories are Sen. Carmen Eva Gonzales of Unidad Demócrata and Deputy Norma Piérola of the Christian Democratic Party (PDC). Quintana assailed the signatories as "soplones" (finks or snitches). (TeleSur, Los Tiempos, April 23; Apporea, April 20; El Caminante, April 13; Oxigeno.bo, April 12)
Unidad Demócrata began as an organ of the business elite but has won support from members of the indigenous opposition, who are disaffected by what they call Morales' authoritarianism. The PDC is unambiguosly part of the right-wing opposition. Even under harsh attack by supporters of Morales' ruling Movement Toward Socialism (MAS), the 12 lawmakers appear to have remained silent on the veracity of accusation.
In a finding that casts a dubious light on the Constitutional Court decision affirming Morales' re-election bid, Human Rights Watch last month accused Bolivia's government of undermining judicial independence by arbitrarily dismissing nearly 100 judges since 2017, and called for the OAS to address the issue. The Morales government claims the authority to remove judges who were already on the bench when the country's new constitution was adopted in 2009, changing terms for their appointment. (Jurist, May 1)
Morales' chief opponent in the October race will likely be Carlos Mesa, an ex-president of neoliberal persuasion who will nevertheless be runnning on the ticket of the Left Revolutionary Front, a defunct Maoist party that has retained its electoral registration. Mesa recently acted as Bolivia's legal representative in its maritime dispute with Chile—which was resolved in favor of the latter nation by the International Court of Justice last year. The ruling was a blow to Morales and Mesa alike. (AFP, Oct. 6; NACLA, Dec. 27)
US senators Ted Cruz (R-TX), Bob Menéndez (D-NJ) and Dick Durbin (D-IL) earlier this year introduced a resolution calling on Morales not to stand for re-election.
US National Security Advisor John Bolton last year called Bolivia part of a "troika of tyranny" along with Venezuela and Nicaragua, assailing the countries' respective leaders as the "Three Stooges." (Newsweek, Nov. 1)