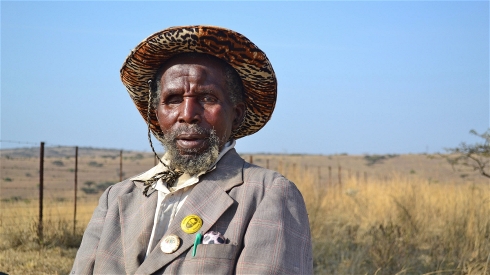 Traditional Rulers Make Claim in Agrarian Reform
by Kristy Siegfried, IRIN
BABANANGO/JOHANNESBURG — The pace of land reform in South Africa has long been criticized as too slow, but experts and black South Africans still awaiting restitution fear that the recent reopening of the land claims process may not only delay outstanding claims further but could actually reverse the limited progress that has been made in restoring land to those dispossessed by Apartheid-era policies.
An amendment to the 1994 Restitution of Land Rights Act was signed into law by President Jacob Zuma on June 30 in an apparent attempt to give people who missed the original 1998 cut off for lodging land claims another five-year window to do so. According to the Land Claims Commission, nearly 12,500 new claims have already been lodged.
A number of civil society groups made submissions to Parliament prior to the amendment being passed, warning that unless thousands of outstanding land claims were ring-fenced from new ones, their resolution would likely be delayed for many more years, particularly as new claims could overlap with unresolved pre-existing claims made on the same land.
The Act stopped short of ring-fencing, although it does undertake to prioritize claims lodged before 1998, about 8,500 of which have yet to be processed while another 20,592 have been "settled" in terms of signed agreements but not finalized or fully implemented.
Rural claims hardest to resolve
While claims covering urban areas can often be settled fairly quickly with cash compensation, rural claims involving hundreds of individual claimants can take years to resolve. "Processes of acquiring land, planning for people to resettle, and how the land will be used; all of these take enormous amounts of time and expertise and we have a very constrained government institution—the Land Claims Commission—charged with doing all this," commented Ruth Hall, an associate professor with the Institute for Poverty, Land and Agrarian Studies (PLAAS) at the University of the Western Cape.
In a November 2013 submission to Parliament, Hall and her colleagues at PLAAS estimated that resolving the existing land claims would take at least another 15 years and described the restitution process as "still in its early stages." To deal with thousands of new claims in addition to finalizing old ones, the Land Claims Commission would need a significantly increased budget, noted the submission. In fact, the National Treasury has decreased the amount allocated to the restitution process over the next three years.
Hall described the government's reopening of the land claims process as "a populist move that's likely to come back to haunt us… because it's raising expectations without the possibility of being able to deliver."
Traditional leaders prepare land claims
Of even more concern to land rights groups and claimants than the Commission's lack of capacity to deal with the new claims have been reports in recent weeks that a number of traditional leaders are preparing their own claims to large swathes of land that would encompass many existing claims. Among them is King Goodwill Zwelithini, ceremonial leader of the Zulu people (South Africa's largest ethnic group), who is preparing a claim expected to cover the entire province of KwaZulu-Natal as well as parts of three neighboring provinces.
President Zuma appeared to back such claims earlier this year when he called on members of the National House of Traditional Leaders to get "good lawyers" in order to take advantage of the reopening of the land claims process "on behalf of your people."
However, experts like Thabiso Mbhense of the Legal Resources Centre (LRC) in Johannesburg have pointed out that such claims are unlikely to be recognized. Despite statements by government officials, including Minister of Rural Development and Land Reform Gugile Nkwini, suggesting that communities dispossessed of land prior to 1913 should be included in land reform, the amended land rights act has retained 1913 as the cut-off date for claims. This should disqualify claims made by King Zwelithini and other traditional leaders whose land was taken by the Dutch and British during the colonial period.
However, not everyone is confident that the traditional leaders' claims can be so easily dismissed. Chief Researcher at the University of Cape Town's Centre for Law and Society Aninka Claassens notes that traditional leaders have long been critical of the land reform process for allowing the transfer of land they consider communal or "tribal" and therefore falling under their authority. Claassens said there were worrying indications that government officials, including Minister Nkwini, endorse this view.
Exceptions for heritage sites?
While traditional leaders' claims are unlikely to be recognized as restitution claims under the amended act, some may be recognized under a separate proposed policy which, according to Minister Nkwini, will create exceptions to the 1913 cut-off date for descendants of South Africa's indigenous Khoi and San people, but also to allow for claims to heritage sites and historical landmarks.
If this proposed policy becomes law, traditional leaders such as King Zwelithini would legitimately be able to lodge claims to areas where their ancestors were buried or where their homesteads were located.
One such area known as Babanango in the Zululand district of KwaZulu-Natal was once the site of a homestead belonging to nineteenth century Zulu King Dingane. The land was later given to Boer settlers for their support to the Zulus in an 1884 battle against the British. For the next 100 plus years, the people living on the land were forced to work for the white farmers in return for being able to remain there and keep their own cattle.
Labor tenants in Babanango
Although some of the settlers were evicted from Babanango in the 1960s and 1970s, others remained as labor tenants up until the mid-1990s when the land was sold to Amafa Heritage Council, the province's heritage agency. Amafa introduced wild game to the area and imposed a limit of 10 cattle per family. Many of the cattle have since died—the result, say their owners, of disease brought by the wildebeest that Amafa introduced.
"Our grandparents farmed this land for themselves," said Mfumeni Sibiya, who has lived on the Babanango settlement for all of his 86 years. "The white farmers were much better than now because we were allowed to plough fields and graze our livestock."
Sibiya said he had lost his entire herd of cattle to disease and now relied on his government pension to survive.
Under the 1996 Labour Tenants Act, which formed part of the government's land reform programme, most of the remaining 19 families living at Babanango filed land claims in 2000 and 2001. Another family that had been evicted from the land lodged a restitution claim. According to the family's spokesperson, Msizeni Magwaza, the restitution claim has not gone beyond the research stage while there has been no word on the progress of the labor tenancy claims since they were lodged 15 years ago.
Mbhense of the LRC told IRIN that of about 18,000 claims lodged by former labor tenants, very few have been processed by the Department of Land Affairs, which was mandated to deal with them. The LRC brought a court application against the department in 2013 in an effort to force them to process the outstanding claims. "They're opposing it on the basis that some of our clients have received settlement through restitution," said Mbhense, adding that the department had also complained that it lacked the budget to process claims. The case is currently before the Land Claims Court in Johannesburg.
A new palace
With their land claims unresolved, the Babanango community are now facing a new threat. King Zwelithini has plans to build a new palace (his eighth) on the land, which is also expected to form part of his huge land claim.
"Our core business is heritage and some of the earliest Zulu kings are buried in this valley; this is where the Zulu nation was born," said James Van Vuuren, deputy director of support services at Amafa which has provisionally approved the King's plans.
Van Vuuren was dismissive of the Babanango community's claims to the land, arguing that "no black families were forcibly removed" and that the land in any case had belonged to the descendants of the Boer settlers who were given it in 1884. He added that the families had been offered alternative land on an adjacent farm but had refused it.
"That offer is still open as are various other models for relocation," he told IRIN.
But Magwaza said his ancestors and those of the other families living at Babanango had been there for two centuries and they have no intention of leaving. He also insisted that they should have been consulted about the king's plans.
"No one from the Royal House has come here to talk to us," said Sibongile Mthimkhulu, 63, who is among the former labour tenants at Babanango who have lodged claims. "We suffered during Apartheid when white farmers were here and the king said nothing on behalf of farm dwellers. We want restitution."
Mbhense of LHR, who is assisting the Babanango community, noted that the Magwaza family's restitution claim was never published in the government gazette, a required first step in the processing of restitution claims that would have required the Land Claims Commission to be informed about any plans to develop the land.
The Land Claims Commission did not respond to questions from IRIN, but in a series of Twitter exchanges with land rights activist Nomboniso Gasa, Deputy Land Claims Commissioner Thami Mdontswa admitted that the Commission had not been notified of the king's plans to build a palace at Babanango. He added however, that "heritage is as important as restitution."
Former labour tenants could lose out
"Basically, government has turned its back on these claims," commented Claassens of the Centre for Law and Society, referring to the claims of former labor tenants.
"After 1994, there were these laws put in place to provide for land rights based on previous discrimination and what those rights were going to deliver was ownership," she told IRIN. "But now [government] has created an open field for traditional leaders to come in and trump these claims. This process of tribal land claims is a means by which they're going to justify moving away from those rights to political deal-making."
The Babanango community say they will continue to fight for their rights to the land, but they are clearly wary of challenging the king.
"The man is untouchable. When you want to confront him, you have to be careful," said Magwaza. "Maybe he will swallow everything."
———
This article first ran Aug. 21 on IRIN.
Photo: Titus Zulu, 87, is still waiting for the outcome of a land claim he lodged in the Babanango area of KwaZulu-Natal 15 years ago. Credit: Kristy Siegfried
From our Daily Report:
South Africa: two dead in water riots
World War 4 Report, Jan. 23, 2014
Thembuland announces secession from South Africa
World War 4 Report, Jan. 24, 2010
—————————-
Reprinted by World War 4 Report, Oct. 4, 2014