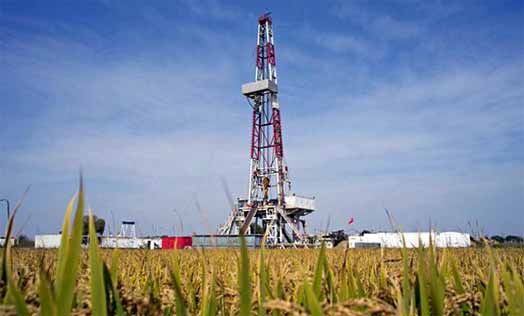 from Frontera NorteSur
Mexico is emerging as the next big battleground in conflicts over hydraulic fracturing, or fracking, as the method of extracting natural gas is commonly known. While Mexican lawmakers consider regulatory legislation to put into practice the 2013 energy reform that opened up their county's oil and gas reserves to private investors, anti-fracking forces are mobilizing for a moratorium or an outright ban of the controversial practice from the Mexican Congress.
"There are many warning signs around the world about this predatory practice in the environment and on health," said Mexican Senator Rabindranath Salazar Solorio, a member of the center-left PRD party and secretary of the Senate's energy commission. "It's for this reason that Mexico should reflect and not commit the same errors to the detriment of the population."
Mexican environmentalists cite many reasons to forget fracking: the depletion of scarce water resources; the potential contamination of aquifers; the usage of toxic chemicals, including substances identified as carcinogens, mutagens and endocrine disruption agents; the generation of toxic waste; and a growing body of evidence linking earthquakes to fracking.
Prohibited in some localities around the world, the fracking technique blasts millions of gallons of water, sand and chemicals into underground shale deposits in order to break up the rock formations and release gas.
Seeing mammoth dollar signs, fracking boosters like Chihuahua Governor Cesar Duarte maintain that developing shale gas reserves will ring in an unprecedented bonanza of billions of greenbacks and benefit economic and social development.
"The ecological effects as well as the economic and social ones don't have to be negative. Why would we want an industry to comes that impacts us?" Duarte was recently quoted. "On the contrary, this is an opportunity for Chihuahua that was not on the horizon, to turn us into a state with energy potential."
Lately, the Chihuahua governor has been a busy man selling his state's energy profile. He's discussed the matter with the director of Mexico's national oil company Pemex, addressed thousands of businessmen at a Washington, DC conference and met with unnamed European investors. And Duarte is far from alone among Mexican political and business leaders poised to plunge into the shale gas market.
According to the US Energy Information Administration, Mexico places number six in the world's club of nations with recoverable shale gas resources, topped only by China, Argentina, Algeria, the United States, and Canada—in that order. Touted as the spark that will get Mexico's economic engine roaring, the success of 2013 energy reform will largely depend on accessing shale and other hard-to-reach hydrocarbon reserves, such as deepwater oil.
The industry news site Oilprice.com reports that Mexico's recoverable shale gas reserve is estimated at 600 trillion cubic feet. Additionally, the country is believed to possess 13 billion barrels of recoverable shale oil, making the Aztec Republic the eighth largest country in the world with such deposits.
Pemex has indentified five main shale gas regions for possible exploitation, extending from parts of Hidalgo, Veracruz and Puebla states in the center and south of the country to the states of Tamaulipas, Nuevo Leon, Coahuila and Chihuahua in the northern border region, roughly the same zone Mexican political analyst Victor Quintana calls "Zeta Land," in reference to the influence of the Zetas organized crime group.
Mexican and international press reports indicate that 20,000-plus fracking wells could be on the drawing board. Pemex has already drilled at least 19 experimental shale gas wells in the Nuevo Leon-Tamaulipas borderlands, with other exploratory grounds near Nuevo Laredo and another zone to the south.
Reportedly, Halliburton and Schlumberger have commenced drilling wells in nine municipalities of Nuevo Leon. Gustavo Hernández, Pemex's chief for exploration and production, said wells located in the Burgos Basin and other areas should receive $800 million in investments within the next year.
Likely springing from deep foreign pockets, overall investments between $100-250 billion are projected as necessary to develop the national shale gas industry during the next decade. For Federico Alanis, owner of a small aluminum business in the border city of Reyosa, Tamaulipas, fracking is the future. "We have to renovate or die," Alanis said. Shale dollars, Alanis added, represent a "blessing from God."
But others in northern Mexico do not see a divine hand in fracking. Residents of Nuevo Leon and at least one academic study point the finger at fracking, (already underway on a large scale in neighboring Texas) for an increase in earthquakes during the last two years.
Scores of homes in Las Enramadas, Nuevo Leon, have purportedly suffered fractures to walls and floors. Elias González, resident of Garza González, Nuevo Leon, told the Mexican press he had spent nearly $2,000 repairing damages to his floor from a quake. Students preparing for a springtime festival this year at the Repueblo de Oriente school were startled when the earth shook, breaking building windows and sending the children into a panic.
A January 2014 study authored by the engineering faculty of the Autonomous University of Nuevo Leon linked the spike in earthquakes to natural geological movements, natural gas extraction, the over-exploitation of aquifers, and barite mining.
Water is a huge concern, especially considering that much of the area of the country mapped out for fracking is in an arid zone that is likely to get only drier according to the predictions of climate scientists.
Javier Meléndez, former sectional president of Samalayuca, Chihuahua, a small community just south of Ciudad Juárez, warned that the desert environment should be treated differently in light of the delicate state of natural resources, of which water is the principal one. "Without water, we would be ushering in a catastrophe for this entire zone of Chihuahua," Meléndez said.
The movement against fracking is growing across Mexico. A national organization, the Alliance Against Fracking, is petitioning Mexican legislators to ban the gas extraction method. Coahuila Bishop Raul Vera and Chihuahua Congresswoman Martha Beatriz Cordova have added their voices to the fracking opposition. Last April, hundreds of small farmers from Chihuahua who blockaded the Bridge of Americas between Ciudad Juárez and El Paso listed looming fracking projects as among their grievances laid out in the Chamizal Proclamation.
At the end of June, the Chihuahua Citizen Alliance Against Fracking was christened at a meeting in the state capital of Chihuahua City. Promoted by Chihuahua Senator Javier Corral of the National Action Party (PAN), the alliance brings together non-governmental organizations, students and militants from both right and left political parties.
Corral contended that the fracking issue had been downplayed in the Mexican press, with opponents characterized as enemies of economic and social progress. The broader economic benefit of fracking is highly exaggerated, Corral insisted to a Mexican reporter.
"This is a big tale," the senator said. "[Fracking] doesn't employ many people, and it is expensive considering the big machines that it uses." Corral said the current focus on exploiting shale energy resources is coming at the expense of other energy choices Mexico should be adopting.
"The problem is that they want to continue delaying other alternative sources of energy in favor of extracting hydrocarbons," he said. "And what this does is set us back another 50 years extracting sources of fossil fuels when the country should be investing in renewable energy and a real energy plan that is not just petroleum based."
Conversely, others in powerful positions dismiss the negative reports about fracking.
"There is no scientific evidence from respectable sources, which are not downloaded from Google, that fracking generates tremors in Nuevo Leon, in Texas, or anywhere else," said PRI party Senator David Penchyna, Senate energy commission president. "There are many interests involved in this issue."
Penchyna's pronouncements to the contrary, serious scientific evidence keeps accumulating that ties fracking to negative environmental consequences.
For instance, Purdue University scientists published a report this spring in the Proceedings of the National Academy of Science that found shale gas wells in Pennsylvania emitted methane, a powerful greenhouse gas far more potent than carbon dioxide, on the order of 100 to 1,000 times the rate of earlier estimates by the US Environmental Protection Agency.
After geologists detected a probable relationship between earthquakes and fracking in Ohio, the state government recently moved to require seismic monitoring for new gas drilling permits.
Similarly, another study published this month in the journal Science reported on the probable links between fracking and earth movements in Oklahoma, where the number of earthquakes registered on the Richter Scale of 3.0 or greater soared from an average of one annual event during 1976 to 2007 to 44 per year from 2008 to 2013; so far this year, 233 such earthquakes have occurred in Oklahoma, according to the report.
An unusual ripple of earthquakes in neighboring Texas and Kansas preceded an Oklahoma meeting earlier this year where government regulators from the three states discussed fracking standards.
Critics assert fracking cannot be done in an environmentally-friendly manner. "Making fracking safe is simply not possible, not with the current technology, or with the inadequate regulations being proposed," Louis Allstadt, former executive vice president of Mobil Oil, was quoted earlier this year.
Security is another thorny issue hanging over a Mexican fracking boom. It just so happens that the geography of Mexico's shale gas reserves is populated by organized crime groups, particularly the Zetas, which have long mastered the theft and distribution of gasoline and diesel as a profitable endeavor.
"Organized crime, which is going to watch the [energy] businesses, is an operative cost of security," said Alejandro Islas, head of the Mexico City-based Risk Evaluation consulting business.
The relatively short life of shale gas wells, which Mexican geologist Dr. Luca Ferrari Pedraglio pegs at two years, almost lends itself to irregular business practices in a political system where functionaries frequently change faces and regulatory capacities are limited.
Will fracking present lucrative opportunities for extortion fees, kidnappings, product heists, or outright ownership of production facilities? Taken together, the potential profits to organized crime from fracking could easily dwarf the revenue stream from illegal drugs.
Given the enormous amount of capital and profits at stake, some Mexican analysts like John Saxe-Fernández and Victor Quintana foresee a redoubled militarization in fracking land, implemented by the Mexican army, private security firms in the mold of the old Blackwater firm and foreign mercenaries with experience in Iraq and Afghanistan.
In a recent article, Quintana compared Mexico with Ukraine in terms of the political power and energy industry dynamics at play.
Wrote Quintana: "The interests of the transnational oil companies, the US government, [President] Pena Nieto, the PRI and the majority of the PAN require the imposition of gas shale exploitation on the northern border of our country, with all the force of legal, paralegal and even illegal institutions at a given moment. This is the size of the enemy that confronts the people of Mexico."
For now, the future of fracking rests with the Mexican Congress, whose members will take up the issue in the days ahead.
If the voting follows the pattern that's prevailed on major economic reforms since the beginning of the Pena Nieto presidency in December 2012, in which the president's ruling PRI has teamed up with members of other political parties to pass contentious labor, education, taxation, energy and telecommunications reforms, an absolute ban or moratorium on fracking seems unlikely.
Mexico's Secretariat of the Environment and Natural Resources is expected to review draft regulations for the drilling of shale gas and the disposal of toxic waste later this fall. The proposed rules will touch on water consumption and pollution, chemicals, earth tremors and worker safety.
———
This article first ran July 9 on Frontera NorteSur.
Photo: Ecology Global Network.
Resources:
Alianza Mexicana Contra el Fracking
From our Daily Report:
Mexico: fracking wins in disputed 'energy reform'
World War 4 Report, Dec. 17, 2013
Mexico: 39 killed in Chihuahua, Tamaulipas violence (on Zeta attacks on oil infrastructure)
World War 4 Report, June 12, 2010
Narco-coal: Zetas diversify portfolio (on Raúl Vera's campaign against the Zetas)
World War 4 Report,  March 17, 2013
Colombia's Ecopetrol to process fracking licenses
World War 4 Report, Sept. 26, 2014
Ukraine, austerity and gas
World War 4 Report, March 23, 2014
Obama shilling for drilling, backing fracking
World War 4 Report, Jan. 26. 2012
East Coast earthquake reveals regional nuclear dangers
World War 4 Report, Aug. 24, 2011
See also:
THE NEW TEXAS GAS WAR
Fort Worth Communities Confront Corporate Colonization
by Peter Gorman, Fort Worth Weekly
World War 4 Report, December 2008
MEXICO'S DRUG WAR PRISON BOOM
by Kristin Bricker and Santiago Navarro, Upside Down World
World War 4 Report, August 2013
—————————-
Reprinted by World War 4 Report, Sept. 27, 2014