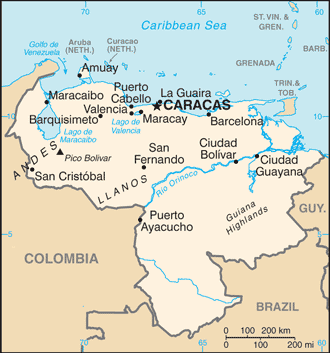 Venezuelan Supreme Court justices currently in exile have filed a complaint with the International Criminal Court (ICC) accusing President Nicolas Maduro of crimes against humanity. The complaint was initially filed with Venezuela's Supreme Tribunal of Justice (STJ) by Hebert Garcia Plaza, a former member of the Maduro cabinet. However, the STJ stated that many of the actions alleged in the complaint could potentially qualify as crimes under the Articles 5, 6 and 7 of the Rome Statute (PDF) and that, under Venezuelan law, it did not have jurisdiction to consider the matter. Accordingly, the complaint was filed with the ICC.
The complaint alleges that Maduro, along with approximately 60 other government officials, has aggressively and violently pursued civilian dissenters in the country and effectively branded them enemies of the state. The complaint states that the alleged crimes of Maduro may bring about the
painful but inevitable situation in which at least some 20 million Venezuelans may be forced to leave their country or run the risk of dying due to malnutrition, lack of medication, or be imprisoned or murdered by government forces.
The complaint further alleged that only those who swear loyalty to the government through the acquisition of a so-called "Homeland ID Card" can have access to the scarce food and medicine recources available in the country.
This is not the first complaint filed with the ICC alleging Venezuelan officials committed these crimes. Last week, Luisa Ortega Díaz, Venezuela's deposed chief prosecutor, also filed a complaint with the ICC calling for the arrest and trial of top Venezuela officials for crimes against humanity. Ortega Díaz alleged that "8,290 deaths took place between 2015 and June 2017 on government orders." She also charged the government officials with "over 17,000 arbitrary and politically motivated arrests, hundreds of cases of torture, and the general paramilitarization of the civilian population."
NGOs have also recently released reports that seem to support the allegations levied by Diaz and the Justices. Earlier this month, Amnesty International published a report accusing Venezuelan officials of ordering illegal night home invasions of individuals suspected of dissent in an effort at intimidation. AI received reports of 47 illegal home invasions between April and July 2017 in 11 different districts across the country. The raids are believed to have been carried out by Venezuelan government security forces and occurred during a period of heightened protests and demonstrations.
From Jurist, Nov. 21. Used with permission.