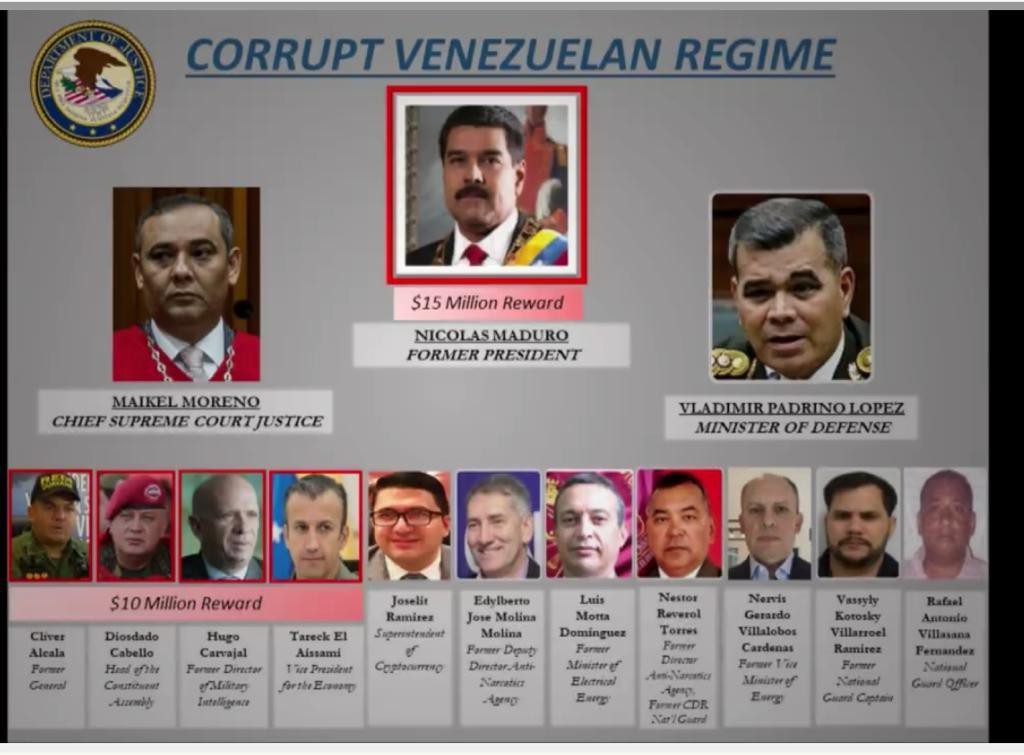 In a rare move, the US Department of Justice issued an indictment against Venezuelan President Nicolás Maduro on March 26. Maduro and 14 current and former Venezuelan officials have been charged with narco-terrorism, corruption, drug trafficking and other crimes. The DoJ alleges that Maduro conspired with the FARC, Colombia's guerrilla army, prior to becoming the president, and continued to do after assuming power. The indictment charges that this nexus has congealed under the name "Cartel of the Suns," and that Maduro continues to collude with dissident factions of the FARC that remain in arms despite the Colombian peace accords. Attorney General William Barr said the aim of the conspiracy is "to flood the United States with cocaine."
The other indicted officials include Defense Minister Vladimir Padrino López; the chief justice of the country's supreme court, Maikel Jose Moreno Pérez; and senior United Socialist Party of Venezuela (PSUV) leader Diosdado Cabello. The US is offering $10 million for information leading to Cabello's arrest, and $15 million for Maduro's.
Venezuelan Foreign Minister Jorge Arreaza responded that the indictment shows the "desperation" of the "Washington elite." He said that Trump is "once more attacking the Venezuelan people and its democratic institutions, using a new form of coup d'etat based on miserable, vulgar and unfounded accusations."
Maduro is currently under US sanctions, which are aimed as pushing him out of power. The US, the Organization of American States, and several other countries recognize opposition leader Juan Guaidó as the legitimate ruler of Venezuela rather than Maduro. Guaidó declared himself president in January 2019, but failed to take control of the government from Maduro.
Venezuela has been suffering from the world's largest recent economic collapse outside of a war zone for around a decade. The COVID-19 pandemic has now highlighted the fragility and supply shortages of the Venezuelan healthcare system. (Jurist, Al Jazeera, Ahora Mismo)
Image: DoJ