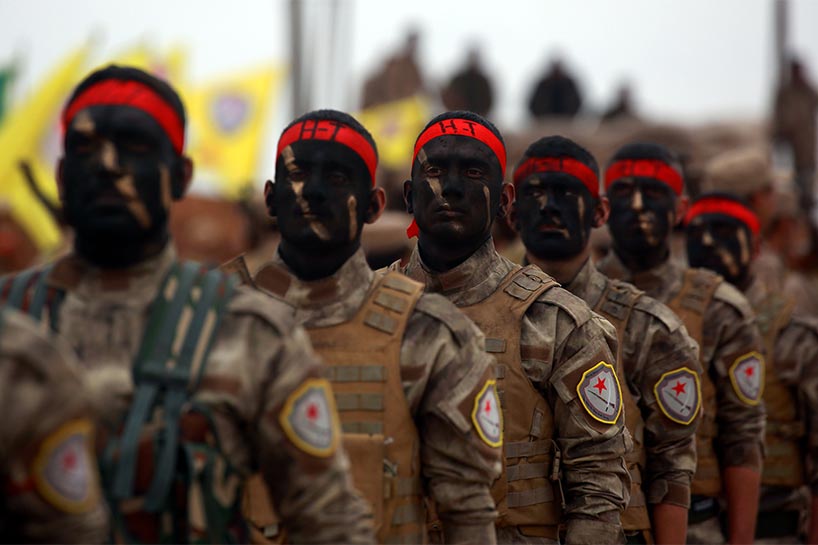 The New York Times reports Dec. 19 that President Trump has ordered a "rapid withdrawal of all 2,000 United States ground troops from Syria within 30 days." Trump tweeted the announcement: "We have defeated ISIS in Syria, my only reason for being there during the Trump Presidency." Hardly coincidentally, this comes just as the Kurdish-led Syrian Democratic Forces (SDF), the Pentagon's main partner on the ground, are on the brink of capturing the last town in Syria still under ISIS—Hajin, on the banks of the Euphrates River in eastern Deir Ezzor governorate. The Independent reports that SDF fighters have now entered the town aft6er a three-month siege. Also not coincidentally, Turkish President Recep Tayyip Erdogan just days earlier warned of an imminent offensive against the People's Protection Units (YPG), the Kurdish militia that makes up the core of the SDF. Erdogan said Dec. 12 that Turkey will launch an operation against the YPG "in a few days," adding that it is "time to realize our decision to wipe out terror groups east of the Euphrates." The Euphrates River has until now served as a border between Turkey's "buffer zone" in northern Syria and areas still under Kurdish control. Turkey is now preparing to cross it—with evident US connivance.
None of this should come as a surprise. First note that the US withdrawal is coming because ISIS is largely defeated… whereas Assad has largely reconquered the country. Now, you tell us…. whose side has the US been on in this war? What we cautiously called a US tilt to Assad has actually been wholehearted support of the dictator as the guarantor of "stability"—at least since Trump, and possibly even under Obama.
Also note that the 2,000 US servicemen in Syria are overwhelmingly embedded troops fighting alongside the SDF. There has been widespread speculation that they have really been there more for political than military reasons—to restrain Turkey from attacking the SDF. Their withdrawal can be seen as an explicit "green light" to Erdogan to cross the Euphrates and wipe out the Kurdish autonomous zone in northern Syria.  With ISIS defeated, the Kurds have outlived their usefulness to Washington. And the last thing Trump wants is a chunk of Syria controlled by anarchist-influenced Kurdish revolutionaries.
This reckoning has been a long time coming. We will now see if the world will offer any protest or outrage as the Kurds are betrayed—yet again.
Image of SDF fighters via Rudaw