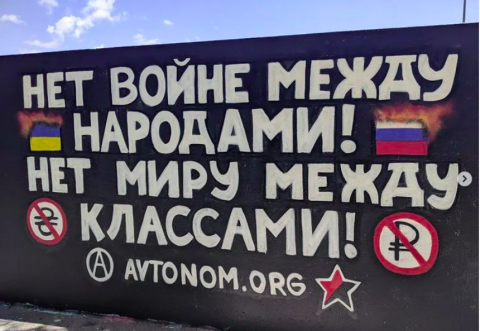 As Putin finally ordered his forces across the Ukrainian border into the breakaway Donbas region, the Russian anarchist group Autonomous Action issued a statement to the world, entitled "Against annexations and imperial aggression." It reads: "We urge you to counter the Kremlin's aggression by any means you see fit. Against the seizure of territories under any pretext, against sending the Russian army to the Donbas, against militarization. And ultimately against the war. Take to the streets, spread the word… Do not be silent. Take action. Even a small screw can jam the gears of a death machine."
The Belarusian anarchist group Pramen similarly issued a statement, specifically addressed to troops in the country's armed forces, entitled "Soldier! The enemy is in Minsk, not Kiev!" It reads: "Putin, with his imperialist ambitions, threatens to invade Ukraine. Lukashenko is ready to support his Kremlin master by sending Belarusian soldiers to war in another country… Soldiers will have to die for the Russian czar. But…every soldier has a choice… Dictator Lukashenko and Emperor Putin are the true enemies of the peoples of Belarus, Ukraine and Russia… Soldiers, in your hands is a weapon that can free you and your comrades from useless bloodshed and war. Revolt against the officers and the greedy politicians. If anyone should perish in all this conflict, it is the Belarusian dictatorship and the Russian empire!"
Mechanics of seizure
Russian President Vladimir Putin signed decrees on Feb. 21 recognizing the independence of the Donetsk People's Republic (DPR) and the Luhansk People's Republic (LPR), the two separatist enclaves in the Donbas. The lower house of the Federal Assembly of Russia, the State Duma, had voted six days earlier to approve a resolution calling upon Putin to recognize the DPR and the LPR as independent states.
In a televised speech upon signing the deecrees, Putin stated: "I consider it necessary to take a long overdue decision to immediately recognize the independence and sovereignty of the Donetsk People's Republic and the Lugansk People's Republic." The openly bellicose speech charged that Ukraine itself no has historical right to exist, calling it a "colony with a puppet regime." He asserted that Ukraine is "an integral part of our [Russian] history, culture, and spiritual space," and refered to the "shame" of Ukrainian independence.
Later that day, Putin met with the DPR and LPR leaders to sign treaties of cooperation and mutual aid between Russia and the two enclaves.
Following these decrees, Putin ordered Russian troops to the two enclaves to "keep the peace." Ukraine's Minister of Foreign Affairs Dmytro Kuleba responded by requesting an urgent meeting of the UN Security Council.
International opposition
Putin's actions have been met with strong international opposition. European Commission president Ursula von der Leyen and European Council president Charles Michel issued a joint statement calling the move "a blatant violation of international law as well as of the Minsk agreements. The [European] Union will react with sanctions against those involved in this illegal act."
UN Secretary-General António Guterres similarly condemned the action, stating: "We remain fully supportive of the sovereignty, independence & territorial integrity of Ukraine, within internationally recognized borders."
The 2015 Minsk Agreements, brokered by France and Germany and aimed at limiting the Donbas conflict, now appears to be dead. (Jurist, Mediaite)
There have been few voices of anti-war dissent in Russia since Putin's new war drive on Ukraine began last year, a testament to the current atmosphere of totalizing repression within the Russian Federation.
Banner reads: "No war between peoples, no peace between classes." Via Autonomous Action